Equipped to Lead and Succeed
8 Questions for an MBA Student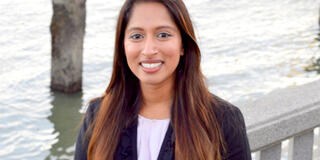 Farzia Kaufman MBA '17 shares her experience of fully embracing the Full-Time MBA program, inside the classroom as well as outside - and how she has developed the skills needed to grasp the opportunities at USF and learned the secret to being "an inspiring leader, a collaborative team member, or an entrepreneur."
Where are you from, and what inspired you to pursue this degree at USF?
I grew up in Chicago, went to Chicago Public Schools and the University of Chicago and worked for six years. Leaving Chicago was difficult, but there really is no place like San Francisco, and USF really embodies the values, the drive and the innovation that is great about our city and the greater Bay Area. The vision of providing positive change and leadership for organizations I am passionate about is what inspired me to pursue graduate school and a business administration degree. It's really a privilege to be able to pursue an MBA, and being in the workforce for several years gave me the opportunity to both understand that, and recognize the skills that can be gained in the MBA program and how they can translate to that vision.
How would you describe the other students in the MBA program and your relationship with them?
Our MBA program is much smaller than many others out there in terms of cohort size, and you really get to know pretty much everyone as an individual. Classmates become friends, and you form study groups and develop support systems. The MBA journey has a two-pronged approach, first where you develop as an individual and second where you develop as part of the greater community. We are part of a larger USF community and interact with students in other programs (law, financial analysis, organizational development, environmental science, etc.), and there are always new people to meet. Our friendships go beyond the classroom, and we make concerted efforts to explore the city, organize excursions, bond and have fun!
How is the MBA program helping you to advance your career?
The MBA program provides ample opportunities to meet recruiters and company representatives from diverse industries. During my first year, I had the opportunity to network with a University Relations Recruiter from Kaiser Permanente.  Having the opportunity to build relationships like these led me to find a summer internship that aligned my interests and organizational fit. I am currently an MBA Intern with the Finance Strategy and Management Office at Kaiser Permanente's National Headquarters in Oakland.
How have the Jesuit values at USF influenced you or the MBA program itself?


Social responsibility, morality, diversity of perspectives and a culture of inclusion are strongly embedded in our curriculum and have been incorporated in most if not all of the classes I have taken thus far. I have also had the opportunity to actively participate in USF's

Challenge for Charity

this past year, and I support the organization's commitment to developing MBA students to be socially responsible citizens of the community through volunteering and supporting local charities and causes. In particular, Challenge for Charity supports Special Olympics of Northern California, the SF-Marin Food Bank and the Network for Teaching Entrepreneurship (NFTE).  Through our involvement in clubs and organizations, we embody USF's Jesuit values, and as the co-President of Challenge for Charity for the 2016-2017 academic year, I am enthusiastic about carrying forward these values and engaging our incoming MBA cohort.

What is a day in the life at USF as a Full-Time MBA student?
A day in the life of a first year MBA student starts with commuting to get to your 9:00 a.m. class. Students not only live all over SF, but also in the North Bay, East Bay, Peninsula and South Bay. With public transportation options and the strategic location of our school in the financial district, the commute is convenient. By 1:00 p.m., classes are done and students head out to grab lunch from the cafes, food trucks or Rincon Center before heading back to school to do homework and/or group projects. Additionally, during the week, Career Services and various clubs and organizations host speaker events, conferences, volunteering opportunities, training workshops and networking sessions, which are also incorporated in your day's activities.  
What was the most exciting academic-related experience you've had at the School of Management so far?
During the second semester of the first year we took Macroeconomics with Professor Blakley.  As a 7-week course, the speed and complexity of the material was intimidating. Our final project had us evaluate a potential international business expansion opportunity for a company. [This was done] by synthesizing the theories and concepts learned in class and applying them to our analysis of current world events, the current state of the economy and future economic outlook for a specific target country.

As a group, to be able to analyze complex data sets, utilize skills from past experience and other classes, make evidence-based strategic decisions and to convey our findings in a clear and concise manner allowed us to truly understand the core concepts from the course and be able to understand the complex interconnected global economy.
What advice would you give to other MBA students?
Be flexible and understand that learning occurs both inside and outside the classroom. Embrace the opportunities that are present to you as an MBA student to meet new people and learn about companies, small and large, startups and established.  Be involved with the MBA program and seek to make a positive impact.  
What is the most valuable thing you've taken away from USF?
Strong communication skills are key to your success. Being an inspiring leader, a collaborative team member, or an entrepreneur takes more than aptitude--it is the finesse of language, verbal and nonverbal, and how you portray yourself that strategically distinguishes you from others.  Through numerous projects this past year, we have had the opportunity to hone our presentation skills. Through the peer feedback process, we've learned the impact that strong communication skills have in engaging an audience.