Engaged Learning
8 Questions for an Information Systems Student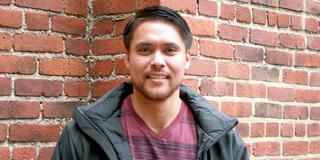 Vernon Vergara MSIS '16, shares how the Master of Science in Information Systems program set him up for success - and how through "teamwork, support and dedication" within his cohort, he was able to persevere through every challenge he faced and ultimately enhance the skills needed to be an efficient business analyst.
Where are you from, and why did you choose to get your degree at the USF School of Management? 


I was born and raised in the East Bay, specifically in Hayward, Calif. I moved to San Francisco about 10 years ago for college. The USF program fit within my schedule as it was part-time. Also, the class sizes were small enough that I was able to have open discussions with my fellow classmates and the professors.

What were you doing before you entered the MSIS program?


Before entering the program, I was working in online marketing for an e-commerce company called Ebates.com, a cash-back rewards site that was recently acquired by one of the largest e-commerce companies in the world, Rakuten, Inc. I currently work at the same company and perform a different role within our business IT department.  

Tell us one thing that you think might surprise people about the MSIS program. 


One thing that surprised me about the program was how well the courses were structured. In a seven-week course session, we cover a lot of material, yet the agenda for each week was clearly defined. The way the program is structured definitely sets you up for success and gives every student the opportunity to succeed.  Every course syllabus is outlined to specify when assignments are due and when major projects need to be turned in. Since the courses are accelerated, the curriculum can be very challenging to complete, but the professors are more than willing to provide guidance and any feedback that contributes to the student's success.

What was the most exciting project or class experience you've had at the School of Management? 




One of the most exciting as well as engaging projects was in the e-Business class. Our group had to come up with a theoretical company in any industry and provide web design mock-ups and financial forecast reports and deliver a presentation to ask for funding from an angel investor. My group's theoretical company is called YABE (eBay backwards). The whole business model of YABE is a reverse auction, in terms of buyers creating their price and sellers meeting the price. 


The class was very engaging, and Professor Kolb encouraged group interaction during every session. The class would spend a good amount of time discussing the project and going over the weekly assignment deliverables. This e-Business class definitely provided a great framework in understanding the process and workflow of building your own business online.

What was your schedule like during the program? Did you have internships or jobs alongside your academic work? 




My schedule was pretty busy. Aside from taking classes, I had a full-time job in San Francisco working for Ebates.com. I have recently transitioned to an analyst role within the business intelligence unit, and what I have learned from school definitely applies to my work. Having that academic background as well as the hands-on experience are a winning combination for optimizing my learning. 


A great deal of the coursework from the program has helped me perform my job more efficiently. The program has provided me the basic understanding of how information systems work within any organization and the resources needed to create, as well as maintain, a system. I analyze data and create reports in my current line of work. The MSIS courses, particularly database management and Business Intelligence, have helped strengthen my understanding of the technology used and the important business practices that are needed to increase efficiency.

What is the most valuable thing you've taken away from USF? 




The most valuable thing I have taken away from USF is perseverance. Although classes met once a week, all the projects and assignments took a lot of time to complete, especially since many of us in our cohort are working professionals. However, we managed to complete every assignment and complete every course up to this point, and the ways we did that as a cohort were through teamwork, support and dedication.

Did the MSIS program help prepare you for your current job? 




The program did help me prepare for my current job. As a business analyst, I work with a substantial amount of data and with various IT tools to extract and analyze findings. Courses within the program such as database management, e-business, global IS, and Business Intelligence & Data Warehousing have all given me the knowledge to perform my job role. The program has helped me develop my communication and leadership skills. In my current line of work, speaking with different business departments is essential when presenting data that will influence a business decision. Also, communication and coordination with the data engineering team, as well as with other data analysts, are key in making sure that data we provide to the end users are accurate and are provided to them in a timely manner.

What are your future professional goals after completing the program--and how has USF influenced these goals? 


After completing the program, my desire is to be in a management role within a business intelligence unit. Since I have a solid interest in data and analysis, my hope is to develop my skills and knowledge then transition to a management position where I can utilize both my technical skills and soft skills within a team.
Interested in what an information systems degree can do for you? Learn more about the USF School of Management's cutting edge program in the heart of Silicon Valley.