Faculty & Staff Achievements
3 Things You Didn't Know About Professor June Lee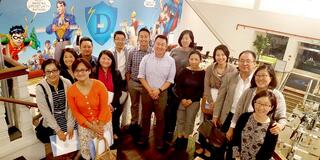 Lee is involved with many local nonprofits. She said, "I am able to grow and learn personally and professionally by giving back to communities!" Some of the nonprofits she is involved with are Bay Area K Group (BAKG) "an educational nonprofit for Korean / Korean-Americans in tech," the Humane Society of Silicon Valley, Stanford's Beyond the Farm, and the Korean-American Community Foundation of San Francisco. Recently, she helped BAKG register as a 501(c)(3) and become tax exempt.  
Originally, Lee is from Seoul, South Korea, but she has lived in the U.S. for the past twenty years. Her favorite thing about home is the food. She doesn't have a favorite food but enjoys branching out and trying different worldly cuisines. She also likes to cook! "Some of my favorite places so far include Janta (Indian), Da Sichuan Bistro (Sichuan Chinese), and Sol (Mexican) in Palo Alto, and Jang Su Jang (Korean) in Santa Clara," she explained. "I have yet to explore good Korean restaurants in San Francisco!"

Image

USF faculty June Lee was in Alaska during Summer 2017. Lee said that so far she has visited more than 20 countries.

She's also passionate about worldly travel. Lee said that so far she has visited over 20 countries, including New Zealand, Australia, China, Taiwan, Thailand, Singapore, Vietnam, India, Japan, Belgium, Germany, France, Italy, Czech Republic, Hungary, and Canada - just to name a few! She enjoys being accompanied by family and friends during her journeys around the world. Last month, her travels took her to Juneau, Ketchikan, and Skagway in Alaska where she got to enjoy seeing the glaciers and do some whale watching. "Traveling allows me to realize how little I actually knew about the world. I also love meeting new people, trying different types of food, and experiencing new cultures," Lee said.  
By Lonny Wysard