San Francisco Advantage
USF MBA Student's Tourism Startup Idea Goes "Off the Beaten Path"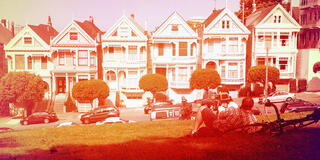 Andy Hunter MBA '16 wants to help tourists experience San Francisco like the locals do.
"Everyone wants to be this independent traveler living off the beaten path, but in reality it's kind of hard to do," said Hunter, 30, who's been a professional Bay Area tour guide for five years. "If you're traveling by yourself or coming to San Francisco for the second or third time and you want to do something different, how do you do it?"
Hunter's idea, a web-based business akin to Airbnb, answers that question simply: hire locals to show you their favorite haunts and activities off the usual tourist routes. 
Creating a business in 54 hours
He might be onto something. This April, Hunter and a team of budding entrepreneurs won first prize and $7,000 — for developing a platform prototype and for legal fees — at the School of Management's inaugural Startup Weekend, which invited students and local entrepreneurs to compete in a Bay Area event.
The event pitted teams of students and outside participants like local tech workers against each other in a 54-hour marathon to develop the best business proposal.
"We realized the only way to prove this thing would work was to go out to Union Square on the spot and convince some strangers to come out with us," Hunter said.
So his team headed to downtown's tourist hub, Union Square, to ask strangers if they were interested in a craft beer tour.
"I'm a tour guide, I'm a student at USF, and I'm trying to prove people would be interested in going to drink craft beer away from the normal tourist spots," Hunter told passersby.
The plan worked: A Korean tourist and three French tourists signed on and headed to Cellarmaker, a brewery that specializes in making small-batch brews. The guides later dropped them off at Bourbon and Branch, an upscale speakeasy in the Tenderloin neighborhood.
A video testimonial recorded by Hunter's team and submitted to Startup Weekend judges shows the travelers' delight with the experience. The team won first prize for their work on the startup idea, tentatively called Tag-A-Long.
Startup Weekend's second-place prize went to Fundy, an investment platform pitched by an outside participant, that incorporates social causes as investment opportunities. DIY Music, a cloud-based music composing platform pitched by USF computer science major Zane Witherspoon '18, took third.
A springboard to the future
"It's a tremendous springboard for getting to know people who could ultimately be part of your new company," said Lynette Ferguson, SOM graduate career services director, who supported students from the business school's Entrepreneurship Club as they organized the event.
Winning the competition made him realize that "something like this is actually possible," Hunter said. "I have a pretty awesome support group, like the faculty and staff at USF, that are excited about helping me as I move forward with this."
Know someone with a powerful USF story? Let us know! usfnews@usfca.edu | Twitter @usfca