University of San Francisco Alumni Takeover at SoMa StrEat Food Park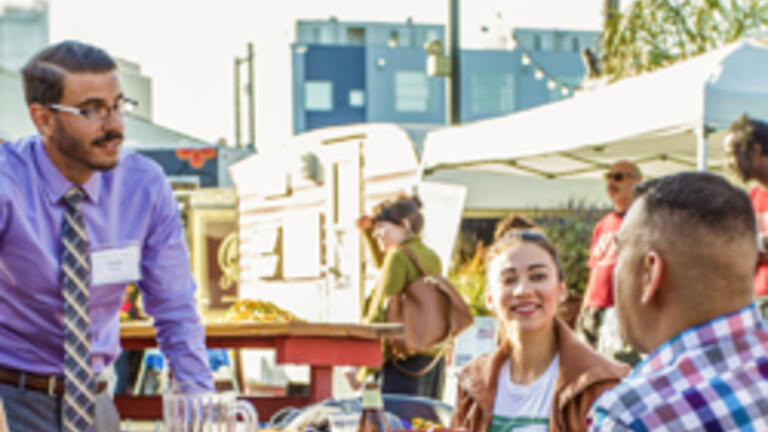 The SoMa StrEat Food Park, founded by University of San Francisco alumni Carlos Muela '09 and Whitney Mahani '09, was the unique venue for this year's Dons Takeover event. The Dons Takeover event is the start of a new tradition that the University Alumni Association organizes for each graduating class. The event's goal is to celebrate the growing number of Dons, enabling newly minted alums to feel forever connected to the alumni community. This summer, the USF Alumni Association welcomed the Class of 2014 as they joined the University's growing family of 100,000 Dons.
The SoMa StrEat Food Park (SSFP), located on 11th Street and Division, is a permanent street food pod in San Francisco, and given its founding by two USF alumni, proved a perfect location to celebrate the new graduates. The SSFP works with over 40 local vendors who are scheduled for different days and shifts to provide a constant variety of cuisines, "from Irish-Eritrean fusion to Indian burritos to just your run of the mill great gourmet sausages," Muela said when opening the park in June 2012.
Alumni of all ages, many of whom were accompanied by their friends and family, were greeted by members of the USF Alumni Association at SSFP. Alumni and their guests strolled the park, feeling challenged to choose which deliciously diverse food truck to dine from. They gathered in the park's pavilion while reconnecting with other alums over a bite of food truck fare. Some chatted over a margherita pizza from Firetrail Pizza truck while others munched from a bowl of tea leaf salad from the Lil Burma Burmese cuisine truck.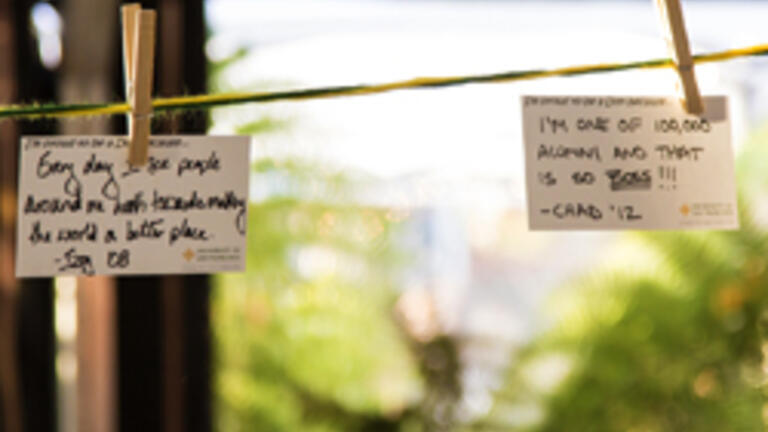 "The highlight for me," Dylan Houle, Assistant Director of Recent Graduate Engagement, said, "was seeing more than 100 Dons connect with each other in a new and fun environment. I loved meeting all the alumni and their friends and family."
Each alum was asked to write a sentiment about what it means to be a USF graduate. Green and yellow twine was strung between two posts in the pavilion and as the night went on, alumni pinned their proclamations to the string. Sean Tracy '12 wrote, "I'm changing the world by taking my USF education and applying it every day to improve the lives of all San Franciscans." Tracy is currently a Campaign Coordinator at Twelvefold Media and during his undergraduate trajectory at USF was a dedicated tutor for America Reads, a national literacy campaign aimed to give children personal tutor resources through reading. "I take a lot away from my USF education. A big part of it was my work ethic, the people I was surrounded by and the people I worked with everyday. I think it has a huge impact on the people who are currently around me as well."
Throughout the evening, a slideshow of photos of the 2014 graduation was playing. "I can't believe there's 100,000 of us," said Ellyse Reanturco '14. "It feels so awesome to be part of that." John Chibnall, 2014 graduate and ASUSF Senate and Student Body President, attended with other members of his class. "All of us had a great time eating, drinking, and connecting with alums that we knew and didn't know before the event. I hope this event continues so that more alumni can feel connected to the network!"
Image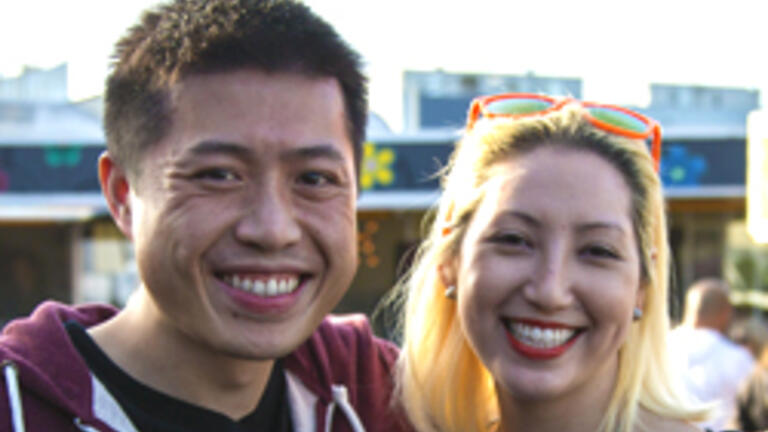 Lucky for Chibnall, the Dons Takeover will be an ongoing tradition serving as the first official alumni event for each graduating class. Recent alumni from across the Bay Area will be invited to welcome the newest members of the alumni network.
"Our alumni live USF's mission in an infinite number of ways," says Houle. "Take Carlos and Whitney and their SoMa StrEaT Food Park, for example. They have helped create a vibrant community space in a once-desolate neighborhood. They are providing food truck entrepreneurs the opportunity to showcase their talents and earn a steady living. That's a powerful example of our alumni changing the world from here!"