Alumni
A Cookbook for Good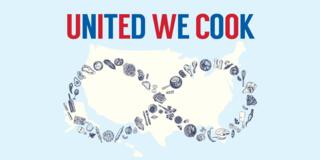 The impact of COVID-19 has rattled the world and has affected many businesses throughout the United States. The restaurant industry has felt the economic impact as many cities mandated shelter-in-place orders, leading restaurants to restructure their business. Two weeks into lockdown orders, alumna Nadia Mashar '06 had a brilliant idea to support the restaurant industry by creating a digital cookbook featuring recipes from restaurants all throughout the United States. An investment banking owner, Mashar leveraged her network to reach out to restaurant owners across the country and collected over 180 recipes for United We Cook in just under four weeks.
"Walking down the street, seeing all the restaurants shut down, it was heartbreaking to hear their stories. I wanted to do something on a bigger scale," she said.
United We Cookbook
United We Cook features recipes from 100 independent restaurants from 37 U.S. cities, representing 24 states and featuring 23 various cuisines and cocktail recipes. Mashar's intention is to support independent restaurants that may not have a strong financial safety net. Many of the recipes feature award-winning restaurants and chefs, James Beard Award winners, and Michelin-rated restaurants. Readers can find recipes from popular Bay Area restaurants like Nopalito, Rooh, Tony's Pizza Napoletana, One Market, Trident, and Mustards Grill. The restaurant industry is at the heart of United We Cook, with 100% of the proceeds going to support participating restaurants and local food banks in those respective cities.
Food for Good
Mashar, like most others, experienced the impact of COVID-19 and the loss of dining out at her favorite restaurants with family and friends. Mashar sees food as a communal experience and was heartbroken to no longer be able to come together with loved ones over a nice meal. However, United We Cook proves to be the antidote to this collective experience as we wait until the restaurant industry re-opens. This "cookbook for good" provides readers the opportunity to support the restaurant industry by cooking recipes from restaurants they might not have the opportunity to visit.
Mashar hopes United We Cook can bring friends and family together by supporting restaurants and food banks throughout the country. She has developed many relationships with restaurant owners and chefs which has led her to reflect on the people behind the food. She says that she hopes everyone can "enjoy this culinary 'virtual' experience from coast to coast until we are able to dine-in at our favorite restaurants."
Support is still needed at USF in many areas as the situation continues to unfold worldwide. So we can continue to support our global USF community, consider giving to the COVID-19 Response Fund »