Engaged Learning
Swimming in the Shark Tank
Business students pitch startup ideas to angel investors — over Zoom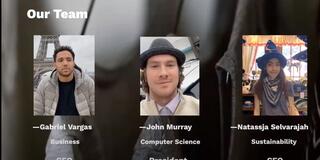 At the USF School of Management, a global pandemic can't keep students from planning and pitching their startups.
Students in the MS in Entrepreneurship & Innovation program took part in a "Shark Tank" competition in August, over Zoom, in which they pitched business ideas to a panel of judges.
The judges included Farah Bhatti, an intellectual property lawyer; Kyoko Watanabe MBA '94, a venture capitalist; Nora Ryan MBA '88, a business development strategist Matt Paknis, a senior management consultant; and Faz Bashi, MD, of the Life Science Angels investment group.
The Future in Five Minutes
Thirteen teams competed. The proposed businesses included Niko Health Care, a manufacturer of N95 masks; Safepet, a pet-tracking collar and social platform for pet owners; and Chefport, an online platform for home chefs.
Each team pitched for five minutes. After each pitch, the judges asked questions.
"But what makes your business different?"
"How are you going to control costs?"
"What about competition from China?"
The winning pitch: Spear & Howard, a web platform on which fashion designers post their clothing in search of buyers. If enough "investors" pledge to buy a given garment, Spear & Howard manufactures it — ethically and with no waste — and ships it to each investor.
"We're kind of like Kickstarter, except we're green, and we handle all manufacturing and shipping and returns," said Gabriel Vargas MS '20, CEO of Spear & Howard.
While judge Matt Paknis said that "Spear & Howard sounds like a law firm" (the name comes from the two streets at which USF's downtown campus is located), the judges praised the pitch.
"In all the years that I've represented clothing designers, Spear & Howard is providing the one thing that designers always ask me about: Do you know someone who can produce my designs?" said judge Farah Bhatti. "And the sustainability part of it is extremely important."
Up Next: Funding
Gabriel Vargas said the judges gave him and his Spear & Howard co-founders, John Murray MS '20 and Natassja Selvarajah MS '20, the encouragement they need to keep working on their business idea.
"We want to make something out of Spear & Howard," Vargas said. "Next year, we hope to start raising funds for real."