Alumni
Surpassing All Expectations: Alumni Mentor Program
Five Questions With Matt Lethin MPA '22 and Andy Pickett MPA '99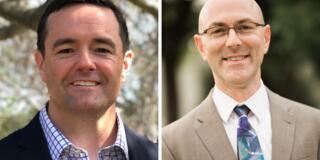 When Matt Lethin MPA '22 first learned about USF's Alumni Mentor Program (AMP), he was hesitant to join. As someone who was 20 years into his career and already engaged in a leadership position at his organization, he wondered how the program could benefit someone of his age and experience level. But when he finally met his mentor, Andy Pickett MPA '99, all of those initial doubts and apprehensions flew out the door. 
Their relationship demonstrates how AMP can benefit alumni and students of all ages, backgrounds, and interests. By taking a chance and following through with the program, Lethin found a lifelong mentor and friend. 
What does USF's motto "Changing the World From Here" mean to you? 
Lethin: The motto speaks to the kind of education USF offers. Through expert-level instruction, diverse classrooms, and a deep commitment to quality education, USF prepares students with the knowledge to drive change and actually make a difference.
Pickett: At USF, I gained not just technical knowledge to prepare me for my career, but also a sense of how to apply that knowledge. This has impacted how I approach my job and informed my decisions. If and when these decisions result in change, I can trace that back to the lessons I learned during my time at USF. 
After hearing about AMP, what were your initial thoughts of the program, and what inspired you to sign up? 
Pickett: I thought about the people who mentored me in every stage of my career. I've benefited from individuals who were willing to share their experiences and pass on the lessons they learned. I felt a sense of responsibility to do my part to keep the chain going.
Lethin: Like Andy, I've been fortunate to benefit from the advice and guidance of mentors throughout my career. Initially, I thought the program was an exciting opportunity, but I was apprehensive that it would solely be geared towards undergraduates or those early on in their careers. Thankfully, the program allows mentees to review the list of potential mentors and share which individuals they'd like to partner with, tailoring the experience to where you are in your career. That was extremely beneficial for me. 
What were your first impressions of each other and how has your relationship grown since then? 
Lethin: I was struck by Andy's commitment to my experience within the program. He was extremely busy with work, family, and other priorities, so I expected him to have limited availability or to be less patient with exploring different topics. But that couldn't have been further from my experience. He was open to all of my questions and needs. 
Pickett: Matt and I hit it off right from the start. In the past, I've always mentored younger individuals in the early stages of their careers, but Matt was well established in his. Our conversations were rich in topics, with a depth that only comes with time and experience. I was learning as much from him as he was from me, and I always looked forward to our scheduled meetings.
How would you describe AMP to current students or alumni? 
Pickett: There's a high degree of satisfaction that comes from sharing what you've learned and seeing others benefit from your experience. Under a mentorship relationship, there isn't a need to make the experience be anything other than what it is. It's a real gift to exchange unfiltered information and I encourage others to take the time to make use of this unique opportunity.
Lethin: Regardless of where you are in your life and career, you can benefit from this program. It has the framework to provide you with structure and support, but also the flexibility and balance to fit your specific needs. 
What makes you proud to be a USF Don? 
Pickett: My sense of pride and fulfillment stems from the professional knowledge and tools USF gave me. I am certain that I can do my work well, and I can do so with a sense of compassion for others.
Lethin: I am most proud of USF's commitment to people because at the end of the day that's what matters most. Everything is designed to maximize the students' abilities and help them make a difference. It all comes back to USF's motto and asking how we can change the world. A USF education will help you do that.
Interested in connecting with alumni or current students? Learn more about the Alumni Mentor Program »