Giving
Planting Seeds of Philanthropy to Honor Latinx Roots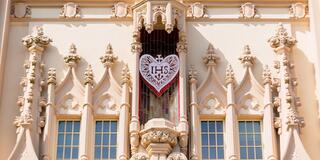 For Mynor Aragon '02, MNA '09, MBA '13, supporting Latinx students is an opportunity to carry on the traditions and values that USF instilled in him. Aragon established The Paniagua and Aragon Family Endowment Fund in honor of his late grandmother in hopes his gift will inspire Latinx students much like how he felt inspired as a student. As a lasting legacy of support, The Paniagua and Aragon Family Endowment Fund recognizes exemplary Latinx undergraduate and graduate students through the Saber es Poder Scholarship.
As Associate Director of Development at Stanford, Aragon understands the value behind alumni giving and the immense impact it has on students. Through Aragon's support and investment in Latinx students, he hopes his contributions will have the immediate impact of lightening the financial burden of attending USF, and ultimately, he hopes it will plant seeds of philanthropy. "Alumni play an inspiring role in carrying on USF's tradition and supporting Latinx students is one way to give back," says Aragon.
Family Values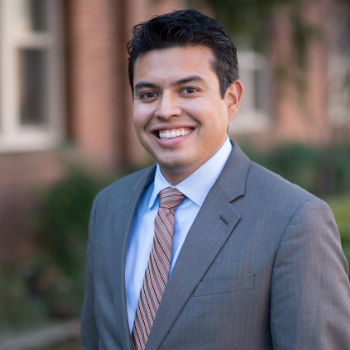 Aragon's endowment established to support Latinx students is deeply personal and rooted in the many values modeled by his late grandmother. Faith and investment in a quality education were the cornerstones of Aragon's upbringing. A graduate of Archbishop Riordan High School, Aragon was provided the opportunity to carry forward the many values of Catholic education by attending USF on several scholarships. "Getting accepted to USF was like an invitation because it meant that USF believed in me and supported me," says Aragon.
"At USF I was not only afforded the opportunity to receive a high-quality education, but I could write my own story," as Aragon recalled how shy he was in high school, but USF gave him the space to break out of his shell by getting involved with the residence hall association. "My background was not a hindrance, and I was empowered to get involved and grow into the leader I wanted to become."
Saber es Poder Scholarship
USF has a tradition of ensuring that high-achieving students should not be denied the opportunity for a diverse, rigorous, and high-quality education. More than 70 percent of undergraduate students are awarded financial aid and 36 percent are first-generation students.
The Saber es Poder Scholarship was established to support Latino students with demonstrated financial need who exemplify academic achievement, leadership, and the desire to make a real difference through service to their communities. Over $525,000 has been contributed to support the Saber es Poder Scholars. More than 100 scholarships have been awarded to students with the support of The Paniagua and Aragon Family Endowment.
For Saber es Poder Scholarship recipient and Politics major, Yesenia Garcia '20, "receiving this scholarship is very meaningful to me because I strongly believe that knowledge is power and it's my privilege to create more opportunity and open the same doors for underserved youth that have been opened for me." Upon graduating this December, Garcia hopes to work in education policy by creating accessible opportunities and resources for low-income communities.
Paying it Forward
As a proud alumnus, Aragon takes pride in sharing his story, which is also reflected in why he chose to give back to USF. "My grandmother was incredibly supportive of me which is why I made my gift in her honor," says Aragon. I'm very grateful and I want to be able to pay it forward to Latinx students like me."
This gift was made in support of Changing the World from Here: Campaign for the University of San Francisco »
Support Latinx students. GIve to the Saber es Poder Scholarship