Giving
The Goal? Getting More Women in the Boardroom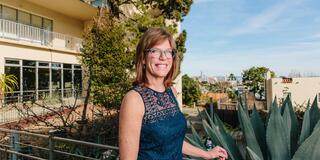 Linda Hothem MSOD '04 started a logistics business, went back to school to learn more about how to run the business, and today is CEO of Pacific American Group, a Bay Area property company. Education was a key component to her success, she says.
And now she's paying it forward, giving $425,000 to the University of San Francisco to fund scholarships for women in graduate programs in the School of Management.
"I do believe that more women in leadership might be a solution to some of the problems we're having in business and organizations," she said. "But without education, that's not going to happen. So I'm very compelled to continue down the road of making education accessible for women."
A Story of Persistence
It wasn't easy for Hothem to earn her master's degree in Human Resources and Organizational Development. She was running a business with her husband, and her sons were in grade school. She went to school at night.
When her husband died unexpectedly, she put school on hold but vowed to return and finish before she turned 40. It took a little longer than that, but she finished. And she's glad she did.
"Getting my master's degree helped me a lot in my business," she said. " It helped me to manage people, manage communications, manage my company. It worked for me, and I think it could work for others."
Paying it Forward
Today, Hothem's scholarship fund supports 11 female graduate students at USF, with scholarships ranging from $1,000 to $5,000 each. All students who have demonstrated financial need, a GPA of 3.5 or greater, and who are enrolled in either the Organizational Development, Entrepreneurship and Innovation, or MBA program are automatically considered for the scholarship.
"Linda's generosity has resulted in immediate impact for women aspiring to be leaders in their fields," said Dean Elizabeth Davis of the School of Management. "Her commitment to this leadership development has already been felt by 11 female graduate students who are high potential performers."
That kind of impact — being able to support more than 50 students in the next five years — energizes Hothem. "Once I saw some of the magic that can occur, it was an incentive for me to work harder so I could give away more," she said.
"I have dreams that a recipient of my scholarship will go on to do great things and become a future scholarship donor — Pay it forward," she said.
As a member of the Dean's Circle in the School of Management, it's also Hothem's role to inspire others to help raise money for another initiative — the Graduate Scholarship Fund. The goal is $10 million, and she invites others to join her.
Find out more about joining this effort
This gift was made in support of Changing the World from Here: Campaign for the University of San Francisco.