Alumni
MSOD Celebrates Its 40th Anniversary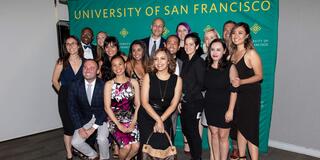 On September 20th, 2019, MSOD celebrated its 40th Anniversary with a gala featuring distinguished practitioners in our field.
Donna Morris, former Chief Human Resources Officer at Adobe, was the evening's keynote speaker. From abolishing Adobe's annual performance reviews, to dramatically expanding its family leave policy and, most recently, achieving global gender pay parity across all 32 countries, Donna discussed her role in managing change at Adobe and her part in making it a great place to work. Following her keynote, she was interviewed by Melissa Daimler, OD advisor and consultant, and former executive at high-growth companies including Adobe. Their discussion focused on the importance of diversity, the need to maintain a business mindset, and driving change with iteration.
The evening also celebrated Linda Hothem, recipient of the 2019 MSOD Distinguished Alumni award. The award honors an alumna or alumnus for contributions to the profession, the community, the University, and the MSOD program. Linda has won numerous Bay Area business awards, including the 2009 San Francisco Business Times Most Influential Women in Business. She currently serves as a member of the School of Management Dean's Circle and has established the USF Women's Advancement Scholarship, which provides scholarships for women in graduate programs within the School of Management. Regarding this scholarship, Linda has noted: "I have dreams that a recipient of my scholarship will go on to do great things and become a future scholarship donor — pay it forward."
Over the past 40 years, the MSOD department has contributed to the advancement of people, teams, growth, and change, and continues to produce leaders who embody USF's commitment to cura personalis and a commitment to others.