Alumni
In Conversation with Mayor Breed: Through the Lens of a USF Freshman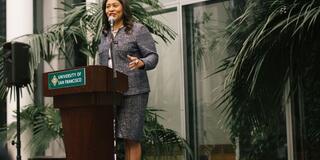 On April 22, 2020, San Francisco's mayor, London Breed MPA '13, joined USF President, Fr. Paul Fitzgerald, S.J., in a public Zoom webinar. The two took to the screens of USF alumni, friends, employees, and students to discuss a detailed report of the city's preventative response to the coronavirus outbreak.
I, like many other students affected by these measures, virtually attended the event. I hoped to further understand how these orders would eventually ensure that fellow Dons and I could return to classes on the Hilltop come fall. 
Making Contributions to Our Communities May Open Doors for Professional Growth
>As Fr. Fitzgerald inquired about Mayor Breed's plans for the city's recovery, she stressed how important it is to be flexible to arising challenges. Looking towards the future of higher education, Breed detailed how students would come to see a possible shift in curriculum. 
"Since all majors will be yielding to a new workforce heavily affected by this pandemic, we must start to train students to adapt and learn how industries have changed," said Breed.
She was eager to speak to graduating students, many of whom will not be able to participate in their respective commencement ceremonies and were crushed to hear that their academic achievements would not be celebrated in a traditional fashion. Mayor Breed encouraged these students to recall the values that the university works to instill in them.
"Stay true to who you are and help others as it is needed more now than ever," advised Breed. 
She recognized how this situation would impact those who will be searching for employment in what is now an uncertain economy following their graduation. New and returning Dons are prompted to take advantage of a surge of volunteer opportunities as they start to present themselves. 
Breed even shared her own experience of working an unpaid position that allowed her to progress in the professional world. 
"After working as an intern, I was able to attain a paying job which is something that most working students should look for," Breed added. 
Drawing Upon Lessons in the Classroom Helps Us Forge a Path Forward
As a student tuning into this event, I was comforted by these sentiments shared by a proud alumna of USF. Even in the face of such a demanding health crisis, she continues to present herself with an air of resilience. She credits her upbringing and the Jesuit education received in her time at USF for her ability to confidently lead in this time of uncertainty. 
"I was shaped to be the leader I am today because of the compassion and understanding I gained from growing up in violence and poverty," said Breed.
She also ascribed her positive demeanor to lessons taught in the classroom. As an English major, it was refreshing to hear her quote many esteemed philosophers and thinkers such as Immanuel Kant and Aristotle.
Working as Stewards Toward Recovery
Mayor Breed commended the steps that the USF community is taking towards flattening the curve. Amidst the chaos unraveling globally in recent weeks, she has urged students towards action for the sake of their health and futures. Aside from practicing safety precautions, Breed also named several organizations that provide great opportunities for the youth to get involved and issue assistance for neighbors who are most affected. Meals on Wheels, San Francisco's Food Bank, and Food Runners are among many institutions acquiring help to source those facing food insecurity. 
In her closing remarks, Breed included ways in which she hopes several communities will aid in eradicating this virus. With the cooperation of those in her community, Breed mentioned how she ensures the safety of others through social distancing measures. She reminds us to take care of ourselves and check up on those who are most vulnerable to the illness and long term effects of isolation.
"It's important to be especially kind and patient with those around us. Hopefully, this will open up the possibility for future conversations," Breed said.
WATCH MAYOR BREED AND FR. PAUL'S FULL CONVERSATION
Support is still needed in many areas as the situation continues to unfold worldwide. So we can continue to support our global USF community, please consider giving to the COVID-19 Response Fund.