Alumni
Using a USF Education to Make the World a Safer Place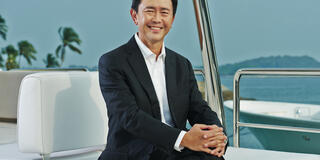 When COVID-19 was labeled as a worldwide pandemic, SUTL Environtech, a subsidiary of the Singapore-based SUTL Group of Companies, was poised at the ready to battle the life-threatening virus and keep residents safe. At the helm of SUTL Environtech is chairman and CEO Arthur Tay '81, whose leadership during these past few months has been critical in establishing SUTL Environtech as the leading distributor of SDST, a toxin-free, self-disinfecting coating, used to keep highly-trafficked public spaces safe.
The COVID-19 pandemic has exponentially increased the need and desire for the distribution of virus-fighting agents that could keep the public safe, thereby increasing the demand for the SDST coating in an unprecedented way.
Tay has risen to the challenge of protecting not only the people of Singapore by distributing SDST throughout the country but also the neighboring countries in Southeast Asia. In true Jesuit fashion, he has taken on the responsibility of caring for others, no matter who they are or where they come from.
Tay's journey to this position of leadership and responsibility for his home country of Singapore all began thousands of miles away in San Francisco when he moved to the United States to pursue an education at the USF School of Management.
An Unforgettable Education
In 1978, Tay had just exited the Singapore National Service after serving the mandatory two and a half years as an Anti-Aircraft Artillery Battalion and being promoted to Captain. In planning his next step, he assumed that he should pursue a degree in aeronautical engineering to build upon his experience in the military. However, after some reflection and realizing that his father would eventually need help with his business back in Singapore, Tay thought that he should follow in his father's footsteps and pursue a degree in business.
At the time Tay had a friend in Singapore who was planning to attend USF. After learning about the quality of USF's School of Management, he thought there would be no better place for him to learn, both in and out of the classroom.
Along with the geographic bonuses of living in San Francisco— the weather and coastal location — Tay thought the city of San Francisco offered the opportunity to learn about and explore American life beyond the classroom, something that would later give him a leg up in the business of distributing American consumer goods at SUTL Group.
"It was very rewarding and refreshing to go back to school after serving in the army," Tay reflected. "USF is fantastic because it balanced exposure and exchange of many cultures, including international cultures and American students from all over the country."
The lessons that Tay learned while at USF built a solid foundation on which he runs SUTL Environtech today. He recalls how USF was the first place he learned to master the foundations of business, how to negotiate and work with business partners in a way that is fair.
Tay believes that a good education goes hand-in-hand with business success because a good education will challenge students to communicate with business partners to ethically and efficiently create win-win proposals and business models.
"Going Beyond" to Change the World from Asia
SUTL Environtech and USF share the common Jesuit value to use their resources to create a more just and humane world for all people. SUTL Environtech aims to "Go Beyond as an organization to deliver more," and realizes its position as a conduit for making sure that the communities they serve are provided with resources to ensure the health and safety of the citizens. As chairman and CEO, Tay sets the tone for the company to serve the people of Southeast Asia and provide solutions that protect the community.
"We realize the sense of urgency that the world is facing right now," explained Tay. "At this moment we are asked to work quickly to provide support, not only to Singapore, but also to neighboring countries crying out for help. SUTL Environtech is just one small pillar in the overall plan. We have to do our part and do it to the best of our ability to help people."
SUTL Environtech has led the way in Southeast Asia to spray and disinfect all public buses, buttons in residential buildings where major populations are living, all five terminals of the Changi Airport, and all first responder vehicles, including ambulances and fire engines.
Tay's hope is that the call for keeping public spaces clean continues into the future, beyond the duration of the COVID-19 pandemic, so that countries and communities with dense populations can maintain their health in the long-term.
Tay attributes his success professionally and personally to his education at USF, both in and out of the classroom, and hopes that international students continue to take advantage of living abroad to learn from USF professors, fellow students, and the wider Bay Area community to make a difference all around the world.
"Instead of growing apart, we need to grow closer together and do our part to understand one another and save the world," Tay said. "It belongs to all of us and it's our responsibility to take care of each other, together."
The call to live for others doesn't get much simpler than that.
To make a gift to the School of Management and support the next generation of USF students who will make the world a better place for all people, please contact Diana Johnston, Director of Development at djohnston@usfca.edu or (415) 422-4068.
Support is still needed in many areas as the situation continues to unfold worldwide. So we can continue to support our global USF community, consider giving to the COVID-19 Response Fund »