Alumni
Knowledge is Power
Five Questions With Carlos Zapata MSFA '15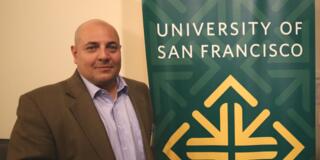 At the heart of each Don is the desire to awaken a passion for academic excellence and cultural discovery. As co-chair of the Latinx Alumni Society, Carlos Zapata MSFA '15 works with his community to create greater opportunity for generations of Latinx students at USF. Zapata's work with the university's Saber es Poder scholarship program embodies his belief that no one should ever compromise their education.
What does 'Changing the World From Here' mean to you? 
Having the opportunity to live in a part of the world like the San Francisco Bay Area, where innovation, progressiveness, acceptance, and embracement of everyone regardless of ethnicity, creed, and sexual orientation is embedded in every-day life. Receiving an education from the University of San Francisco gives me the dream to carry the school's values and missions to other parts of the world that are in dire need of change. 
What impact has USF had on your life?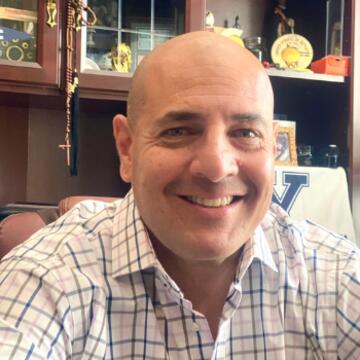 The education I received from USF's Master of Science in Financial Analysis program allowed me to pivot my career toward my passions. I had been in the financial industry for 15 years when I started the MSFA and wanted to migrate into a portfolio manager role. The university's MSFA degree allowed me to possess the credentials I needed to embark on that professional journey. That education and degree opened up doors that I never thought possible, including now being an adjunct faculty member for graduate sustainability courses at USF! 
What programs or organizations do you give back to at USF through the Latinx Alumni Society?
We are very involved with the Saber es Poder scholarship, for which we select four or five recipients for the award every year. It is an extremely rewarding experience to know we are making another Latinx or Latina student's educational goals and dreams a reality. We also serve as "masters of ceremonies" in both English and Spanish languages for all the family members present at graduation. This helps Latinx students share their accomplishments and excitement with their families and fellow students.
What inspires you to give back to these programs, organizations, etc.? 
I am Latinx and I am very connected to my roots and culture. As a college student, my family struggled financially and it was very tough to navigate the system that way. Now that I am in a different situation and have more experience, I want Latinx students to know and feel that things will get better through education. It is a personal goal of mine to encourage them to continue in their educational journey no matter how tough things get because it will be worth it and will pay off in the long run.
What is a piece of advice you can give to current Dons?
No matter how difficult a current situation may be, don't ever compromise your education. Everything has a solution and in the future, your degree will be the most valuable asset in your life.
To join alumni like Zapata in highlighting the achievements of Latinx students, consider joining USF's Latinx Alumni Society ».