Alumni
Envisioning a More Just and Equitable Workplace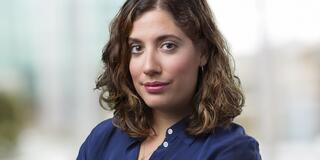 "Diversity, equity, and inclusion (DEI) for me is day in and day out," says Susi Collins MNA '13, DEI Lead for the Global Vertical & Strategic Accounts team at Amazon Web Services. Collins is an assertive, bold, empowered Latinx leader and trailblazer, but her path to success was not without challenges.
Seventeen years ago, Collins moved from Peru to the United States. She had to learn English as an adult and work to navigate the differences between the Peruvian education system and the United States. Even with these challenges, her innate perseverance allowed her to succeed. After graduating from San Francisco State University, she discovered her passion for helping others and began volunteering with nonprofit organizations such as the San Francisco AIDS Foundation, Room to Read, and Thousand Currents (formerly IDEX.)
Collins realized she "was missing the opportunity to help support communities that look like me," and this created her love for philanthropy. This epiphany inspired her to obtain her Master's in Nonprofit Administration from USF. She was drawn to USF because of its social justice mission, commitment to innovation, and its focus on global learning. During her time at USF, what Collins appreciated most was the diversity and intersectionality of her graduate class cohort, including the many dimensions of identity such as race, gender, sexual orientation, language, country of origin, and career paths among others.
Upon graduation, Collins worked in Seattle for the Bill and Melinda Gates Foundation in a variety of roles, which led her to discover her passion for DEI. She then went on to serve as the senior manager of diversity, inclusion, and belonging at Nordstrom before transitioning to her current position at Amazon.
The future of diversity, equity, and inclusion
Collins believes that the future of this field is bright and believes in the possibilities of this work to inspire lasting change to create conditions for underrepresented talent to thrive in the workplace without having to cover or suppress any part of their identities, especially now during this time of social unrest and call for racial justice. "My hope is for diversity, equity, and inclusion to no longer be perceived as a human resource issue, but it is integrated from top to bottom in all business aspects," says Collins.
Collin's advice for those looking to get into this particular field is to find ways to incorporate DEI in their current role regardless of what and where their job is. "Don't underestimate the power of your voice and influence", she says. She also recommends individuals reflect on their own visible and invisible identities and their intersectionality.
"Question your own values and be self-critical about any bias you might have against any type of group," says Collins.
She encourages individuals to educate themselves using resources on topics of diversity that are available online, such as the upcoming webinar on Diversity, Equity, and Inclusion hosted by the Women in Leadership & Philanthropy initiative. She also recommends a variety of podcasts such as Intersectionality Matters with Kimberlé Crenshaw, Code Switch on NPR, The Praxis Podcast: Connecting Theory and Practice to Achieve Health Justice by Edwin Lindo, and The Will to Change by Jennifer Brown.
Building professional connections
Outside of her work at Amazon, Collins focuses her time on philanthropic work. She sits on the board of directors of Families of Color Seattle and the Northwest Immigrant Rights Project. Additionally, Collins is the Co-Founder and Co-Chair of Diversity, Equity, Inclusion, Community of Practice.
Through the USF Alumni Mentoring Program, Collins has also given back by mentoring other young women of color. She advises her mentees to trust their feelings or intuition, advice she wishes she had been given earlier in her career. "Be vocal about your career ambitions," Collins says. "Don't limit yourself or hold back."
Learn more about USF's Women in Leadership & Philanthropy initiative »