Engaged Learning
Who Is J.P. Allen?
Professor plays in Jeopardy's first-ever faculty tournament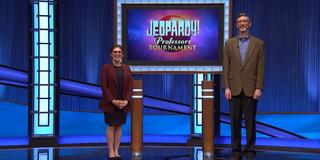 Update: Professor Allen advanced on a wildcard to the semi-finals of the Jeopardy! professor tournament but lost in the final round.
What's the scariest thing about playing Jeopardy before an audience of 20 million people?
"The nightmare scenario is that you get a tough question in your field and you get it wrong," said J.P. Allen, professor of business and innovation.
"I have a PhD in computer science, so anything to do with computers would be tough to miss," said Allen, who played against a botany professor and a French literature professor.
Allen qualified for Jeopardy's first-ever professors' tournament, and his game airs on Dec. 10 on ABC7 in the Bay Area. The show, which was taped about eight weeks ago, is surrounded by secrecy, however, and he can't talk about it ahead of the broadcast.
But for Allen, that's OK. He's been trying for 20 years to get on the quiz show, he said, and he's enjoying the post-game experience.
Here's what he can talk about: strategy and how he practiced by playing five or six Jeopardy games each day from the archives. Oh, and how he planned to play conservatively.
"But when you get up there, the juices flow and you start playing like a drunken sailor," he said. "I started buzzing in on all kinds of things. I don't know what happened to me up there."
Allen hasn't shared his story with his students yet. He was hoping not to distract them at the end of the semester but plans to tell them this week.
Jeopardy has been in the news this year with a controversy over hosts, and Allen admitted that it "added a lot of spice to things" on the show. He liked playing with host Mayim Bialik, he said, because she has "the acting skills and the knowledge."
One of the toughest things to master, though, is the buzzer. "That's a lot harder to practice for," Allen said. "They give you a couple practice rounds."
Ultimately, playing on Jeopardy was a dream come true for Allen, he said.
"To be working on something for so long, and to have it come true, and to have so many people be happy for you is great."
Image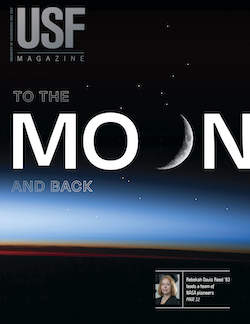 Featured in USF Magazine
This USF News story was published in USF Magazine, where you can find feature stories about university life, alumni Class Notes, and information about events at USF.