Global Perspective
Hospitality Student Completes Study Abroad to Include Voyage Around the World
Hospitality Management student Ashley Danielle Swisher, plans to graduate in fall 2016. During her sophomore year at the University of San Francisco (USF), Swisher decided to complete a study abroad on a cruise ship!
Swisher has always been interested in working in the cruise industry. She knew she wanted to study hospitality since she was in high school. She was exposed to cruise ship travel as a child and has been on 13+ cruises with her family.
"There are not a lot of ways to get a taste of the cruise industry until you are looking for employment," Swisher states "I had to figure out a way to acquire some exposure to ship life so I could decide if this is really the path I want to take after my studies at USF."
Image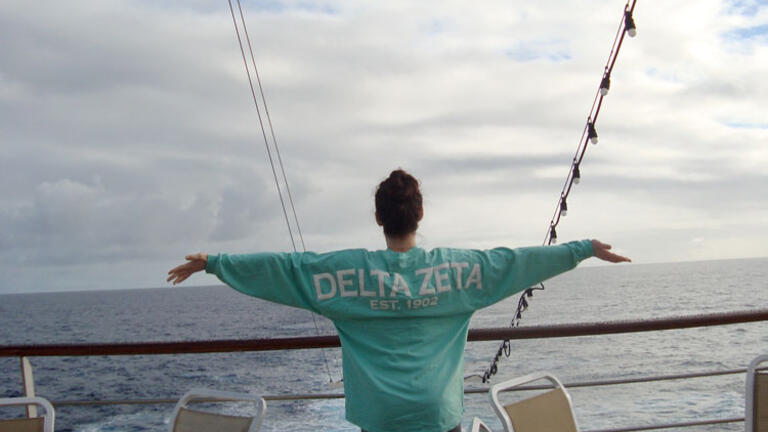 So Swisher turned to what many students nowadays rely on for research: the Internet.
She learned of a company called Semester at Sea and, while she was interested in participating, her parents were hesitant. But after learning more about the program, they were supportive and Swisher started to work on the logistics.
She studied abroad spring 2015 semester and took general core courses that included history, theater, environmental science and world mythology. The entire curriculum was focused on the places the students were visiting, with every course having one or two in-country field labs to integrate the classroom into the global community. Swisher really appreciate this style of learning and states "we were learning the history and culture of these destinations, which is way more applicable and relevant to life."
The ship included 1,000 passengers, 700 of which were students from around the nation. Semester at Sea offered 40 courses across several disciplines provided by 18 faculty from colleges and universities in the U.S. and abroad.
Image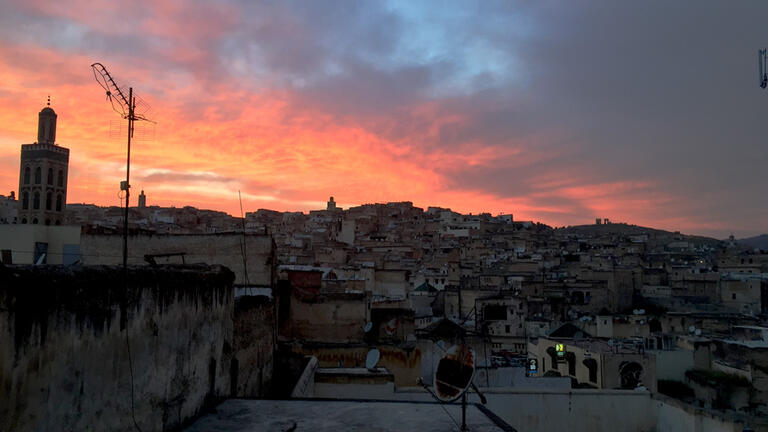 Swisher described a typical school day on the cruise ship as rolling out of bed (not at all stressed about the commute to class), grabbing some breakfast, and heading to class. The ship was not designed for this purpose, so certain spaces were converted to classrooms. Students had a schedule labeled "A-Days" and "B-Days" which determined the days in which they had class. It was not a traditional Monday through Friday schedule: when the ship was out a sea, students had class; when the ship docked, it was considered their weekend. And, when the ship is in an overland port, participants had the option of traveling with the ship or staying in-country for the entire span of scheduled time. Overland ports for this voyage were: Yokohama/Kobe and Shanghai/Hong Kong.
Swisher also took advantage of making friends with the cruise ship employees to learn more about their work at sea. Hotel Director, John Knaggs was extremely helpful. He explained to Swisher the various departments on the ship; this type of ship vs. a traditional cruise ship; and which departments help you move up the ladder.
She is interested in eventually becoming a Hotel Director of a cruise ship, in charge of food and beverage, housekeeping, entertainment and guest services.
Swisher stressed for all students in general, especially hospitality students, how extremely important it is to be exposed to other cultures. She said "If you are outside of American culture, it is really beneficial to the hospitality industry. For me, it made me way more open to working internationally." And now that she is back, she learned to re-evaluate things in life – after not having access to a lot of things out at sea.
After this experience, Swisher is interested in working with Celebrity Cruise Lines because of their noticeable quality of service, which she respects as a potential employee. On a cruise ship, Swisher states "the level of service is the expectation. Not everyone in hospitality goes out and gets a degree, so I would like to work in an environment where that is the expectation. That is why I'm putting in all this effort in obtaining a degree in hospitality because I want to be the best of the best!"
By: Gina Alvarez
---
The Department of Hospitality Management encourages students to spend a semester studying abroad at universities offering hospitality and tourism management programs. If you are interested in studying abroad, stop by Lone Mountain 107 to obtain more information.
Currently, HM has co-operative agreements with Universitat Ramon Llull-Tourismo Sant Ignasi (TSI) in Barcelona, Spain, Haaga-Helia University in Helsinki, Finland and Hong Kong Polytechnic University, Hong Kong. We work closely with the Center for Global Education at USF to connect students with these opportunities.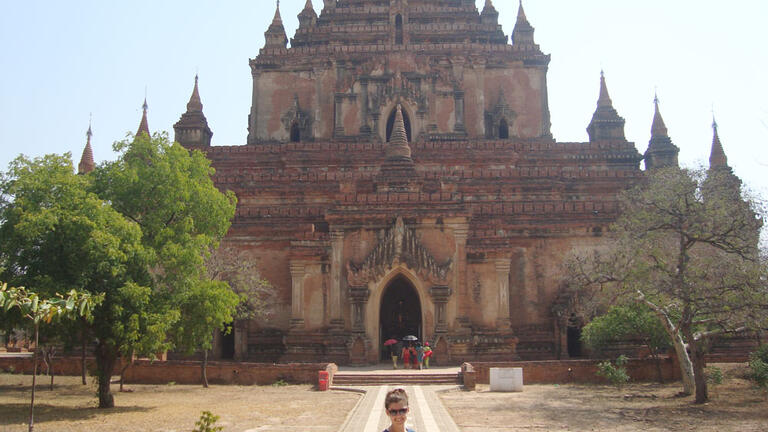 Swisher at Temple in Myanmar