Equipped to Lead and Succeed
Helping Small Businesses Succeed
When big banks say "no," Emily Gasner MNA '06 goes to work
More than 400 Bay Area companies are open for business thanks to loans from Emily Gasner's nonprofit microfinance enterprise Working Solutions.
Founded by Gasner MNA '06 in 1999, the nonprofit provides business microloans up to $50,000 to cafes, childcare centers, clothing boutiques, bicycle shops, and more in all nine Bay Area counties.
When big banks say "no," Gasner, a graduate of USF's Master of Nonprofit Administration program, and her team step in with their expertise and their Jesuit ethos to fund budding but under-resourced entrepreneurs. While Working Solutions lends to any qualified business owner, it specializes in funding minorities, women, and low-income clients — an approach that's proved successful.
"Nearly 60 percent of the businesses we fund are women-owned, 45 percent are minority-owned, and 83 percent of loans go to low- to moderate-income entrepreneurs," Gasner says.
Free advice
"When I started the business and needed operating capital, I was literally laughed at when I asked the banks," said Cheryl Johnson, owner of 3-year-old Cj's Sweet & Savory Cobblers in Rohnert Park, California.
Then she went to Working Solutions, which approved her loan for $20,000.
"If it were not for their faith in me, and continual mentoring and guidance, I wouldn't be here," Johnson says.
But what really sets Gasner's nonprofit apart from other microlenders is what it does after a loan is approved. That's when Working Solutions goes to work, providing up to five years of free business consulting, legal advice, and professional networking opportunities. Loan recipients are also paired with a successful business owner who mentors them one-on-one as a volunteer.
Gasner's hands-on approach pays off: 85 percent of the businesses Working Solutions provides loans to are still in businesses after five years, and the loan repayment rate is 96 percent.
So far, Working Solutions has distributed $10 million in loans and $1.2 million in grants to Bay Area businesses, creating and retaining about 1,400 local jobs, Gasner says. Most of the money comes from federal community development funds and local banks' community reinvestment capital.
From classroom to reality
When Gasner started at USF, Working Solutions was just getting its legs. She used the nonprofit as a case study for projects in almost every class, then applied what she learned to the nonprofit directly. Her goal: find working solutions for Working Solutions.
The agency now has 16 full-time employees with satellite offices in Oakland and San Rafael, and Gasner hopes to expand beyond the Bay Area.
Two other USFers hold key positions at Working Solutions. Both started there as students: Sara Razavi MBA '13 began as an intern and is now the chief operating officer, and Jaclyn Anku MBA '15 began as a volunteer and is now the director of business consulting.
Gasner says she has always received strong support from USF classmates and professors, and she still seeks their advice more than a decade after graduating.
Know someone with a powerful USF story? Let us know! usfnews@usfca.edu Twitter @usfcanews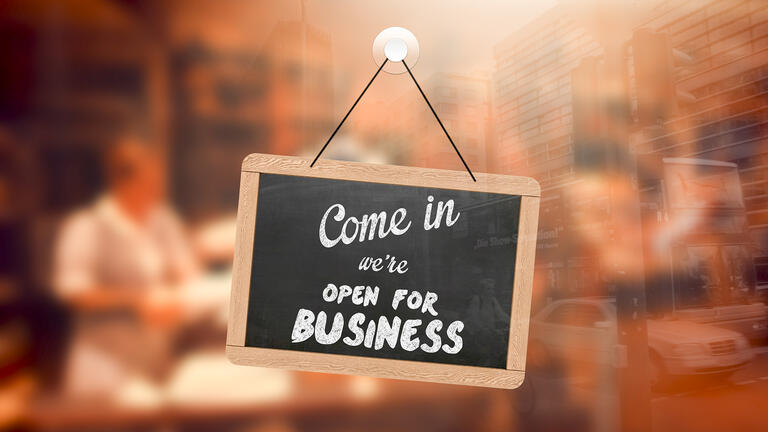 We're open for business sign