Alumni
Can a Guitar be an Instrument of Peace?
Alumna runs nonprofit that helps young people choose music over violence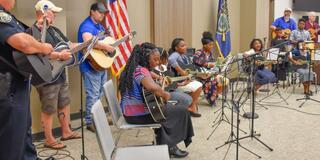 Sometimes, for some of us, in some circumstances, life boils down to a choice: six bullets or six strings?
At the nonprofit called Guitars not Guns, the choice is always six strings.
"Yes, we teach guitar. But more than that we commit to be dependable, engaged, and tuned in to the needs of our students," said Louise Nelson MS '00.
This year, Guitars not Guns, the nonprofit music program run by Nelson and her husband, Ray, celebrates 20 years of teaching young people the healing power of hands-on music.
Serving the Underserved
The children and teenagers who take classes from Guitars not Guns crave positive attention, said Nelson.
"We'll have a boy who is involved in the juvenile court system, or a girl who is either 'acting out' or is completely introverted," she said. "She has lost confidence in herself because she belongs to the society of invisible children who don't stay long at any school because they move from foster home to foster home."
Guitar classes give these young people attention, support, a safe place to go after school, and many valuable lessons, she said.
They learn how to play songs such as "Three Little Birds" by Bob Marley. They learn how to practice, how to persist, how to create. They learn respect for their teachers and for themselves. They feel pride for learning an instrument.
"And they learn how to collaborate and have fun in a group setting," Nelson said.
Students who complete the eight-week session get to keep their guitars and are invited to return for a second eight-week session of more advanced instruction.
Moved by Columbine
Ray Nelson founded Guitars not Guns in 2000, a year after the Columbine High School massacre prompted him to ask how he could help to prevent gun violence. Today the nonprofit has 18 chapters in eight states — California, Oregon, Washington, Ohio, Michigan, Georgia, Maryland, North Carolina — and one chapter in Ontario, Canada.
Guitars not Guns is grassroots all the way. No one on the staff is paid. The classes are free. Each class holds a maximum of 10 students with three adult instructors. Class meets for one hour each week.
Since its founding, Guitars not Guns has served 4,000 young people, age 8 to 18, many of whom, "through no fault of their own, have developed an angry and sad outlook on life," said Nelson.
She knows about at-risk children because she and Ray are foster parents. "We've discussed various ways children can cope with anger and disappointment, and we agree that music is the best healer," said Louise.
Ray, who fronted a band called Ray Nelson & Country Fusion in San Jose in the 1970s and 1980s, and Louise, who doesn't play guitar but says she is "an enthusiastic applauder," said they have never once doubted the ability of music to do good.
"We see children light up when they play a song for the first time," said Louise. "We get reports from parents and guardians who say that behaviors and grades have greatly improved."
She said that her education at USF — master's program in organization development — "inspired me to do good for the community, for forgotten and invisible children."