Giving
The Gibsons: The More You Give, More Comes Back to You
Judy and Wally Gibson '55 were looking for a solution to simplify management responsibilities on various properties they own, eliminate capital gains taxes, and create an income stream for themselves and their family. 
In partnership with USF, they developed a $3.4 million gift plan that provides an income for life for the couple. At the conclusion of their gift, the remaining funds benefit the future of Jesuit education at the university.
The couple's strong support for the university is broad and inspiring.
"The main thing I learned at USF is the importance of honesty," says Wally. "Our life has been blessed, especially mine. Life has been so good to us, and I realize that. The more you give, the more that comes back to you."
Today, more than ever, the Gibsons feel a connection to the university. Their grandson, Hayden, is a freshman at USF studying entrepreneurship.
A Commitment to Education
Wally, a politics and history major, met Judy, a University of California business major, at a Lake Tahoe party in 1957, and they married six months later. They both believe in the power of education.
"Neither one of our parents had much schooling, but they supported education, and so do we," says Wally.
A native of Stockton, he is a practical, hard-working man who very much appreciates what he has been able to accomplish. After graduation from USF, served briefly in the Army at the end of the Korean War.
His education prepared him well to become a stockbroker. Later, he changed direction and became a mail carrier so that he could balance his time more effectively and focus on his private investments.
He says the decisions he made about his career and how he has supported his family — the Gibsons have two children, both attorneys, and four grandchildren — are in keeping with what he learned at USF.
"That goes back to what I learned at USF," he says. "Integrity, intuitiveness and the importance of honesty."
Advocates for Charitable Remainder Trusts
The Gibsons worked with USF to create a life-income plan, which consists of a series of charitable remainder trusts. The couple, who are successful real estate investors, customized the terms of each trust to address special factors associated with each gift property.
"It was extremely easy to do what we did. So much so, that we don't know why more people don't do the same," says Wally.
"It's retirement income that's about as solid as it can get. And not only the income, but it's a great way of saving on taxes."
For Wally Gibson, it's a practical way to support the university that helped form who he is today.
"I came away from USF with the views and values that I don't think you get anywhere else."
There are many ways to support the University of San Francisco through gifts that provide an income stream to the donor. Find out more
This gift was made in support of Changing the World from Here: Campaign for the University of San Francisco.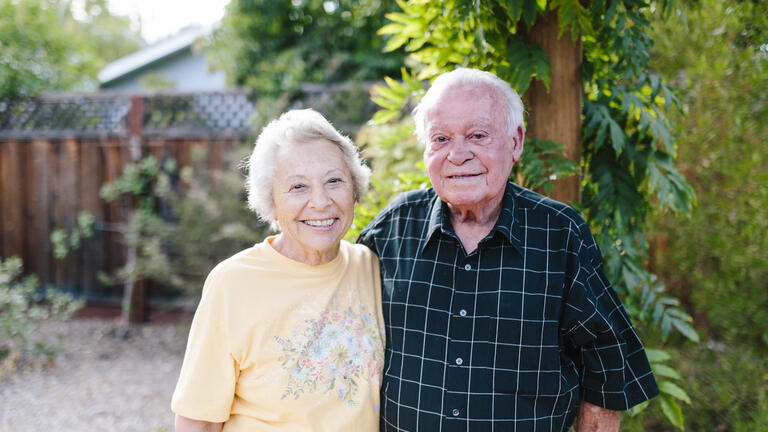 Judy and Wally Gibson worked with USF to develop a powerful gift for Jesuit higher education.