Faculty & Staff Achievements
Fulbright Winner Headed to Spain
The University of San Francisco's Yetunde Sonuyi '09 has been awarded a Fulbright scholarship to teach English in Spain.
Sonuyi, a recently graduated business major, has extensive prior experience teaching, including as a dance instructor to toddlers, English as a second language teacher for the nonprofit Catholic Charities, and as an academic tutor at San Francisco's César Chávez Elementary School.
The Fulbright covers airfare, accommodations, and expenses for Sonuyi to live and work in Madrid for a year. Growing up in a ghetto in Boston as the daughter of Nigerian immigrant parents, she never imagined that she would have the chance to travel so far from home and learn so many languages, said Sonuyi, who speaks English and Spanish, and also knows conversational words in Japanese, Arabic, and Yoruba (her parents' language).
"I thought that I would never get out (of the ghetto)," Sonuyi said, "I thought that it would be a place that I would always live in, but I now see that I can choose my future."
When Sonuyi departs for Madrid in September she'll touch down in familiar territory, having studied business abroad in Spain last spring at USF's sister school Institut Quimic de Sarria, Universitat Ramon Llull in Barcelona.
"Going abroad to Spain (last year) opened up my eyes to the world," said Sonuyi, who now intends to pursue a master's degree in education after she returns. "Really, it turned my entire life around."
Having studied a number of languages she understands how frustrating and also how enriching speaking a second language can be, something she learned from teachers whose influence as role models remains with her today.
"I wanted to be an English teaching assistant in Spain because I know how critical it is to be bilingual in today's society," Sonuyi said. Working with kids inspires her and makes her want to be a role model for them, as her teachers were for her, Sonuyi said.
In addition to teaching, Sonuyi intends to use her time in Madrid to become more "culturally aware and worldly," by, hopefully, taking part in Spanish dance classes, continuing to study Spanish, and volunteering with local nonprofits.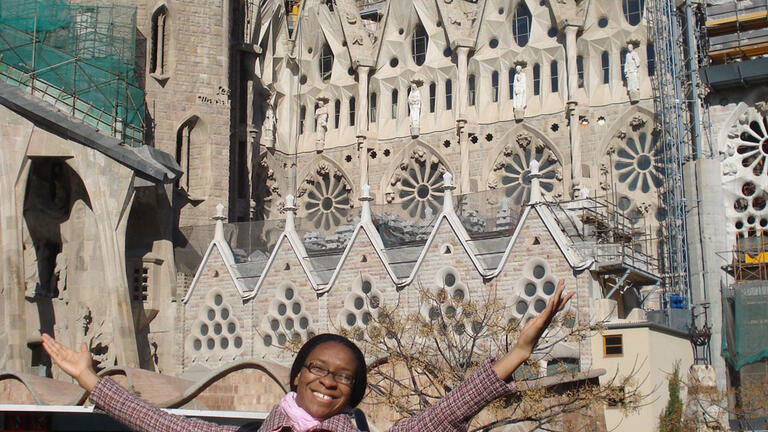 Yetunde Sonuyi '09 tours Barcelona from atop a double-decker bus last year on her first trip to Spain.