Engaged Learning
Executive MBAs Put Their Global Business Perspective to the Test
Image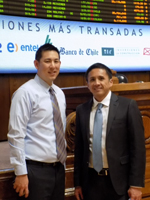 Students in the Executive MBA (EMBA) program traveled to Chile and Peru in January to complete their capstone project in business relations as part of the Global Business Practicum course (GBP). Because the student cohort chooses the location, the destination of the Practicum changes every year. However, the goal to develop skills essential to drive well-informed decisions in the global environment stays the same.
"Different cultures have different expectations," said Kristin Dittus, Program Assistant. "The workforce in San Francisco is so diverse that doing business abroad exposes the kind of challenge that can come in a very real way."
The class works on their GBP projects for about a year, culminating in a presentation to a faculty panel after they return from their travels abroad. This cohort's projects included pharmaceuticals, hospitality (with a focus on large event planning) and an artisanal greeting card business idea. The portion of the course that takes place abroad incorporates a research element and gives the students a chance to make connections in a global market, including meeting with executives of companies in Lima, Peru and Santiago, Chile.
Image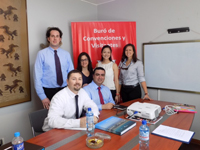 "The businesses we visited spanned the spectrum from global enterprise to start-up," said EMBA student Diane Blattner Kresal, '15. "It gave us a broad view of the variety of enterprises within each country and a deeper understanding of the cultural constructs that inform how business is done."
A lot of preparations goes into the company visits," said Jane Gleason, Assistant Dean and Director of the EMBA program. "These companies are being hosts. The students have the chance to meet with high level executives and forge the connections abroad that they can use in the future."
Since students are already career-driven professionals, they are able to see the effects of a course like this immediately. "One of the advantages of this class is that you can choose a project that you're passionate about and bring it back to your employer," said Dittus. "You can see the immediate benefits by showcasing the project and your experience to your current or future employer."
Time abroad also serves as a way for the cohort of students to connect with one another and grow their professional relationships. Christopher Sullivan, EMBA '15, said the trip was invaluable for this reason.
I was able to strengthen the relationships with my classmates outside of San Francisco and solidify the bond of a network that I know I can depend on, both professionally and personally, for years to come," Sullivan said.
Image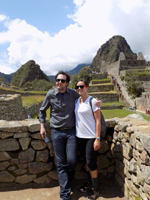 According to Gleason, this Practicum model is being used to grow other global programs at the university. "Because of the academic rigor and the planning that goes into it, we see it as a substantial course," she said. "The element of the cohort picking their destination is completely unique. Using this as a model for other programs can grow the experience of students at the university."