Alumni
Values-Based Leadership in Action
Q & A with Euisun Chung, MBA '98, Executive Vice Chairman of Hyundai Motor Group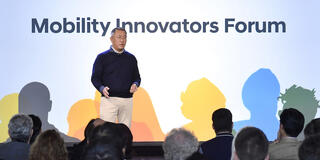 The USF School of Management is changing the world through values-infused global corporate leadership and Euisun Chung, MBA '98 is a prime example. Chung is the Executive Vice Chairman of Hyundai Motor Group, based in South Korea.
As a top global business leader, Chung's influence is wide-reaching. As an MBA graduate from a university where social justice, caring for the whole person, and innovating for a better world are at the core of programs, Chung prioritizes incorporating the values he learned as a USF student into his role at a high-profile, globally influential business.
Why did you decide to pursue an MBA?
After spending most of my life in South Korea with little working experience overseas, I wanted to explore a global perspective through an MBA program and to practice business more effectively on a global platform. Looking back, it was a huge step for me, in terms of breaking away from my comfort zone and experiencing a completely different cultural environment.
What courses did you take while at USF?
I took a number of courses at USF, but I especially enjoyed the courses that were designed to put ideas into practice, as well as the ones that put me in a position to make sound decisions. I remember this quality management class with Dr. Stephen Huxley, and one of our group projects was to examine quality control at the actual Hyundai Precision & Industries site in Tijuana. Another memorable course was led by the late Dr. Eugene J. Muscat, an early bird class at 5 a.m. based on family business dynamics and organizational behavior.
In what ways did your USF education change or influence your approach to business?
It really taught me the importance of teamwork over individual success – understanding one's role and buying into it with a team-first mentality.
To this date, collaboration has always been something that I highly value in corporate culture at all levels, whether it's between employees, divisions and affiliates, or with our strategic partners. It just opens up so many more windows of opportunity to achieve greater things together.
What advice would you give to international students looking for the same course?
Just go for it! Don't be hesitant to step outside of your comfort zone, and challenge yourself with an open mindset. Your main objective may be to learn as much as possible, but it's also important to remember that you are there not only to learn, but also to contribute toward your surroundings at USF.
To learn more about supporting students enrolled in the MBA program or USF's School of Management, contact Diana Johnston, Director of Development, (415) 422-4068