Giving
Education is Where the Heart is
A $1 million legacy gift will further support students in the School of Management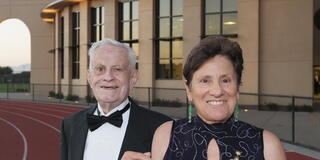 A lifetime of travel, laughter, adventure, strength, passion for learning, and intention are just a few of the values Mary Ann and husband John "Jack" Gibbons '42 shared.
Mary Ann recalls her husband's love for thoughtful conversation and education. It was the heart of their relationship.
"Jack had integrity and was always focused on the right course. He had a great love for people and a big heart. I never thought I would meet a man like Jack," shared Mary Ann. "He was the most intelligent man. He had depth and loved talking about world events. We could talk for hours."
The couple has supported USF for years. After Jack's passing in August 2019, just four months shy of what would have been his 100th birthday, his estate plan provided for the establishment of a Charitable Remainder Trust for $1 million. This gift provides lifetime income to two beloved relatives. After their lifetimes, the remaining proceeds will be added to the John J. and Mary Ann Gibbons Endowed Scholarship at USF that was established by Jack and Mary Ann in 2007.
Passion for Education Begins at Home
Jack's passion for supporting and giving back to education began with his mother, Charlotte McFarland Gibbons.
Charlotte was raised by an aunt who was opposed to the education of women. Founder of the University of San Francisco and Saint Ignatius College Preparatory, Anthony Maraschi, S.J., tutored Charlotte and taught her to read. She grew up on her aunt's small San Francisco farm in the Castro area and took reading lessons in secret at St. Ignatius College on Market Street as a young girl.
"Jack's mother worshipped education and wanted her boys to understand its value," said Mary Ann. "For gifts, she gave her children books instead of toys."
A Lasting Legacy of Success
Jack lived his life in support of Jesuit values like social justice and human rights. At just nine years old, Jack worked three paper routes and called a strike among the carriers for equitable treatment.

"Even then he believed in human rights," said Mary Ann.
He went on to accomplish many things and serve his country in the U.S. Army. He was injured in World War II. After recovering and having his son, he went to work for the California State Public Utility Commission where he scored high on the commission's written tests and during his work also made suggestions to increase efficiency and was rewarded financially by the state for his findings.
"He noted his success on the tests (at the California State Public Utility Commission) to his Jesuit education: a clean white shirt and a sharp number 2 pencil," said Mary Ann.
Jack's passion for social justice and human rights extended into his personal life as well. He was involved in the protest against the demolition of the Fox Theatre in San Francisco, the Caesar Chavez campaign, and an advocate for civil rights. Jack was invited to Washington D.C. for the Martin Luther King, Jr. Funeral by the King family. He had personally met Dr. King and financially supported his cause.
In many ways, his USF education further developed the values he already had in his heart and he carried that with him throughout his life.
Paying it Forward to Support Students
During his time as an undergraduate student, Jack delivered telegrams to financially sustain his education at USF. He understood the challenges students can face affording school and working to support their education. This is what inspired him to establish the John J. and Mary Ann Gibbons Endowed Scholarship which provides support for deserving undergraduate students in the School of Management.
Five students have been awarded the John J. and Mary Ann Gibbons Endowed Scholarship since the fund began distributing. Many of the students have received this award for multiple academic years.
"It's wonderful to know that even though Jack has passed, our gift is still supporting students," said Mary Ann. "A college education is so necessary these days."
Jack's life and legacy of learning, hard work, and passion for equity can be summed up by a Winston Churchill quote he often cited; "We make a living by what we get; we make a life by what we give."
-------------
This gift was made in support of Changing the World from Here: Campaign for the University of San Francisco.
For information about making a legacy gift to USF contact the Office of Gift Planning at (415) 422-4163, or giftplanning@usfca.edu.
To learn more about supporting the School of Management contact Diana Johnston, Director of Development for the School of Management at (415) 422-4068 djohnston@usfca.edu.
At this time USF is requesting continued broad support to help our most vulnerable students attain financial support. Please consider directing a gift to the Covid-19 Response Fund »