Equipped to Lead and Succeed
Dons Help Dons to Find Jobs and Explore Careers
How USF's new networking community led one alumna to a new job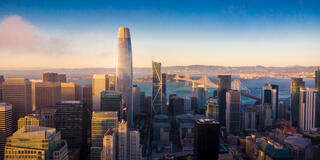 Back in April, Jaileez Campos '15, MGEM '20 was pounding the virtual pavement.
Armed with a master's degree in global entrepreneurial management from USF's School of Management, Campos networked relentlessly, but the job market was tough, especially because of the pandemic. She needed an edge, something to make her stand out from other applicants.
She found that edge through NetworkUSF. She is now an associate consultant at Salesforce.
A new online community similar to LinkedIn, NetworkUSF connects current students with alumni eager to share their professional knowledge with fellow Dons and to network with one another. NetworkUSF led Campos to Steven Thompson MBA '96, the senior director for global onboarding at Salesforce.
Right Space, Right Time
Campos and Thompson clicked right away, after Campos reached out on NetworkUSF.
"From our initial conversation, Steven offered to be my mentor and we had weekly meetings," she said.
Alumni mentorship is important, Thompson said. "I'm all about uplifting, encouraging, and equipping for success anyone I have an opportunity to work with, especially if it's a fellow Don."
Campos, meanwhile, is aware of her luck. In her weekly meetings with Thompson, "I learned about the Salesforce ecosystem and how to present myself to recruiters in the most authentic way possible. Steven even encouraged me to join the Salesforce/Deloitte Digital Career Journey Competition, which I won," she said.
"I hope that this success story is something that I can share with other students struggling to find a job," she added. "I would love to pay it forward by becoming a mentor to a USF student, the way Steven did for me."
How to NetworkUSF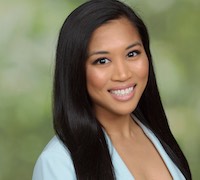 Campos will continue to participate in NetworkUSF, which launched for alumni in June 2020 and opened to current students in fall 2020.
Taryn Moore, USF's director of alumni engagement, said that the goal for the network is to have 20 percent of students and 15 percent of alumni participating by the end of the first year.
Signing up is easy, Moore said. Students and alumni can merge either their MyUSF or LinkedIn account, and tailor their profiles from there. The service enables users to connect with others based on career interests, hobbies, location, and industries.
Image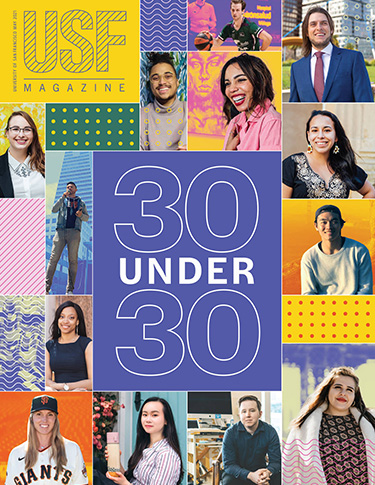 Featured in USF Magazine
This USF News story was published in USF Magazine, where you can find feature stories about university life, alumni Class Notes, and information about events at USF.