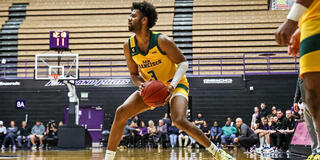 Isaiah Hawthorne '24, is one of many students who attends USF on a donor-funded scholarship. His athletic scholarship has opened doors to the court and the classroom.
Hawthorne is a junior with nothing but high hopes for the future. Like all student athletes, his day-to-day is a careful balance of class, homework, social life and basketball. But it does not come easily.
Majoring in business administration, he explains how his experience on the men's basketball team translates to the work he does off the floor.
"As a student athlete you have to manage your time well, with whatever sport you play," said Hawthorne. "Sometimes it can be hard having a lot of things on your shoulders, but you have to give it your all, on the court and in the classroom."
Hawthorne places immense value on the social life that is offered at USF. He highlights the connections he's made within the community. Whatever the future holds, his experience at USF has given him the resources he needs to build a fulfilling life.
"When the basketball stops bouncing, I'll still have connections with people that will help me branch off into whatever it is I want to do."
Lighting the Way
Hawthrone, who grew up in Tracy, CA, expressed his gratitude for a scholarship opportunity being so close to home. His family is a big part of his life, and he says that at every home game, they're in the stands cheering him on.
His scholarship not only benefits his career, but also his community back home. Hawthorne's younger brother, who is on his high school track & field and wrestling teams, is pursuing a scholarship as well.
"The kids — they look up to me — and I just try to give them a shining light, because where I'm from, it's pretty hard to get to the next level. It means the world to me."
It Runs in the Family
Division I men's basketball requires a special kind of focus and dedication. For Hawthorne, that kind of effort was something that his family instilled in him.
Hawthorne isn't the first person from his family to play college ball. His grandfather, who played at UCLA, was part of the reason he decided to drop baseball in high school and focus his time exclusively on basketball.
"[My grandfather] instilled in me that I need to work hard everyday and believe in myself."
When he wasn't at high school practice, he was hitting the books, recognizing the importance of academics as a part of building his future. He recalls his mom pushing him to work hard and earn his opportunities, which played a key role in his work ethic.
"My mom was always on me to be the best I could be, academically. She knew I could get a scholarship, whether it was in school or sports."
Hawthorne's story is one of many that show the positive impact donor-funded scholarships can have.