Giving
Building Bridges Across the Pacific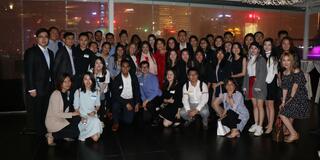 Three USF community members, Wei Guo '11, Marshall Meyer, and Nora Wu '88, have come together to support the next generation of international business leaders through a combined gift of $200,000 to the China Business Studies Initiative (CBSI). This gift is a direct reflection of the spirit of collaboration between continents, countries, and people, a central tenet of CBSI.
CBSI is the San Francisco and Silicon Valley-based thought leader, knowledge hub, and bridge builder for businesses in the United States, Asia, and the rest of the world. The initiative bridges Asia-Pacific business leaders, public policy makers, and academics to the larger San Francisco community through high impact research, resources, and development programs.
USF has a strong history of educating international students, especially those from Asia. USF currently has 8,000 active alumni, 6,000 of whom reside on the Asian continent. As of Fall 2021, there are over 1,200 degree-seeking students from 103 different countries at USF.
Guo emphasizes the importance of this USF network: "We have a strong network of globalized shareholders and ambassadors. The USF entrepreneurship program gave me an opportunity to try practical application of my lessons and access to real entrepreneurs. I learned how they started their own business and about venture capitalism and leadership."
For Guo, the first-hand knowledge of the strength of the USF network and education led him to lean on that very network as an aspiring entrepreneur. Guo shared, "When I started my own company, my first hire was my classmate from USF."
As one of the very few China-focused international research centers housed in a business school, CBSI has unique positioning both within the educational and professional spheres. The initiative leverages over 500 years of Jesuit tradition linking global education with commerce and Jesuit historical connection to China and other Asian countries to support students both on the Hilltop and abroad.
"CBSI is more important than ever," said Meyer when asked why he supports the initiative. "The economies of China and the United States are at a crossroads with the business competition in critical commodities markets like microprocessors, artificial intelligence, and robotics. It's important for businesspeople to have a complete understanding of both [economies]."
The hallmark program of CBSI, the International Student Ambassador Program (ISAP), provides USF students with these unique opportunities to learn about international business and collaborate with professionals from different cultures and countries. The program helps students to develop a global mindset, a vital tool in the ever-increasing globalization of the world and its economy.
"CBSI can continue to play a constructive role in bridging and connecting people from the business and academic spheres while maintaining academic neutrality. This connection is very important for the two largest economies in the world. I hope that with setting up the new CBSI Innovation and Leadership Fund, we can extend the opportunity for more students to participate in ISAP and help them develop as global citizens," said Nora Wu.
This gift was made as part of Changing the World From Here: Campaign for the University of San Francisco. To support the next generation of global leaders, consider making a gift to the China Business Studies Initiative.