San Francisco Advantage
Bring Your Christmas Spirit
Alumni dish on what it's like to work at the Fairmont during the holidays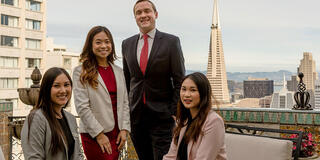 The Fairmont Hotel's two-story gingerbread house ranks up there with the Union Square Christmas tree lighting when it comes to San Francisco holiday traditions. Visitors travel internationally to stay at the marquee Nob Hill hotel during December — enjoying a glass of champagne while taking in the 25-foot tree in the lobby, cheerful holiday music, cozy gingerbread smell, and decorations that line every corridor.
USF News wondered what it was like to work in such a festive place and checked in with some of the Hospitality Management program alumni who work at the Fairmont San Francisco and its sister properties in the Bay Area.
Alison Mach '17
Assistant Rooms Division Manager, Fairmont San Francisco
How did you end up at the Fairmont?
I first encountered Fairmont San Francisco as a freshman hospitality major. The hospitality department had its annual event, SIXE (Student Internship Exchange), at the hotel. There was an opportunity to volunteer and I signed up hoping to learn more about the industry and network. Instantly, I knew that this was where I wanted to be.
What do you do there?
I am in the guest relations department, which acts as the contact for VIP guests such as celebrities, company executives, and athletes. We provide an extra-personalized touch in order to go the extra mile for these guests.
What was your USF experience like?
I had a great experience in USF's hospitality management program. I love that our graduating class had less than 20 people. It meant that major-related courses benefitted from a lot of faculty interaction. They've been the best mentors I could've ever asked for, providing a wealth of knowledge throughout my development — and they sent opportunities my way.
What do you like about Christmas time at the Fairmont?
Family is really important to me, and for guests to allow us to be a part of their family memories is such an honor. I love seeing people's faces light up when they see the giant tree and gingerbread house. It's not only the kids that are amazed.
Dominique Vu '18
Talent and Culture Coordinator, Fairmont San Francisco
Why the Fairmont?
I chose Fairmont San Francisco because I wanted to work at one of the top-rated, luxury hotels in San Francisco.
What do you think about the way the hotel celebrates Christmas?
I have been with Fairmont for a little under six months so this is my first Christmas season here. I haven't been this excited for Christmas in a long time. I got the chance to help build the gingerbread house and it was so much fun! Guests come in from all over the world to see the 25-foot-tall, 30-foot-wide gingerbread house. I love walking through the lobby, smelling the gingerbread, and seeing Christmas trees everywhere.
What's a recent project you've worked on?
I have been planning our Long Service Awards, which is a lunch celebrating colleagues on their milestones with us (three years, five years, etc.), and planning our holiday party/talent show.
Gabrielle Alegre '18
Front Desk Agent, Fairmont San Francisco
What's your favorite part about the holidays at the Fairmont?
My favorite part is the smiles on our guests' faces when they see the giant gingerbread house and giant Christmas tree. It's truly priceless. Guests will come up to the desk and say, "Wow, this is beautiful!" or "I really feel the Christmas spirit."
What's an example of what you learned in USF's hospitality management program?
My experience was filled with amazing professors who are masters in the art of hospitality. We were trained from the first day to act, think, and speak like hospitality professionals — honing our 30-second elevator pitches, practicing in-class networking, and endlessly revising our resumes. They had us ready to apply for jobs as freshmen!
Did you have a favorite class?
The most interesting class was our culinary class, taught by Chef Jean-Marc Fullsack. He changed the way I view food. I now see it as an art form and have a deep appreciation for all the preparation that goes into it.
Peter Houston '08
Quality Manager, Claremont Club and Spa, a Fairmont hotel, Berkeley, California
What's Christmas like at the Claremont?
The Claremont is quite festive this time of year. Our lobby features three Christmas trees to go along with some fantastic décor. Our executive pastry chef created a Whoville replica village, a la The Grinch, which is currently featured in our lobby. We also have a gingerbread house that's on par with the one at Fairmont San Francisco.
Did you have a favorite hospitality class at USF?
My favorite class was Events Management because we were able to put the knowledge we gained into practice by planning and executing USF alumni and hospitality events. Working on both the culinary and service side was an incredible experience.
What kind of projects are you working on?
I'm working with our team on applying data analysis of customer feedback and complaints to improve the guest experience. I recently completed a project where we changed the categories/room rates of 25 rooms based on what the metrics dictated.
Know someone with a powerful USF story? Let us know! usfnews@usfca.edu Twitter @usfcanews