Global Perspective
Battling AIDS: Biz Alum Joins Cause After Uganda Immersion 
Being part of USF means being part of a world that extends far beyond our campus gates and national borders. We have one of the largest international student populations per capita in the country and a vibrant community of students, alumni, and faculty studying and working abroad. This month, USF News highlights this #GlobalPerspective with stories about USFers changing the world from all corners of the globe.
Mallory Browne '13 could have landed a cushy corporate job after graduating as a standout USF business-marketing student. Instead, she saw a chance to make a difference and help save lives working for an international nonprofit that leads HIV/AIDS care and research in 28 countries around the world.
Boost small business
At 23, Browne is the global advocacy and marketing coordinator for the AIDS Healthcare Foundation (AHF) — known to many for its Out of the Closet thrift store chain. She was hired after spending three months in the village of Masaka, Uganda as a Global Service-Learning (GSL) Fellow with USF's Leo T. McCarthy Center for Public Service and the Common Good. In Masaka, Browne — who won awards for leadership and service while at USF — helped create a small business training program for unemployed young people, many of whom were orphaned when their parents died from AIDS.
We want to hear from you: Tell us what a #USFCA #GlobalPerspective means to you on social media and read more about USFers learning, living, and doing good on a global level.
"I didn't know many business students going abroad to work in community development, when I was at USF. But it was something that I've always wanted to do," said Browne, who was in Masaka the summer between her junior and senior years. 
Fight against HIV/AIDS 
By the time Browne left, more than two dozen of the village's young men and women were trained to raise and care for pigs and hens, build and maintain pens for the animals, vaccinate them, and, ultimately, sell them or their eggs for a profit. Today, the program serves about 100 unemployed 9– to 17–year–olds and includes training in craft construction, such as kitchen utensil/dish racks.
Many of the young people can't afford to attend school, are raising their younger brothers and sisters, live crowded into small homes with extended family, or a combination of the three — and they want to contribute to the family, Browne said. It was Browne's stint in Masaka that sparked her interest in HIV/AIDS advocacy work and opened the door to her current job at AHF. "That's where I became interested in how my role as a marketing major could connect with HIV/AIDS work," Browne said.
"The majority of students think business and marketing are all about making money," said Browne, a bachelor of science in business administration alum. "But my professors always stressed social justice, asking: How can you take what you learn at USF and apply it to making someone else's life better?"
Create positive change
Two years after her return, Browne's project is still among the most successful GSL projects, said Andrea Wise '08, MA '13, assistant director of community-engaged learning at the McCarthy Center. "Mallory is a prime example of how a USF education and McCarthy Center programs help students create positive, sustainable change in society," Wise said.
Each year, about 15 GSL Fellows take part in sustainable development and community building projects in India, Bolivia, and other countries, through the Foundation for Sustainable Development. The summer immersion is part of a yearlong curriculum about global citizenship.
Know someone with a powerful USF story? Let us know! usfnews@usfca.edu | Twitter @usfcanews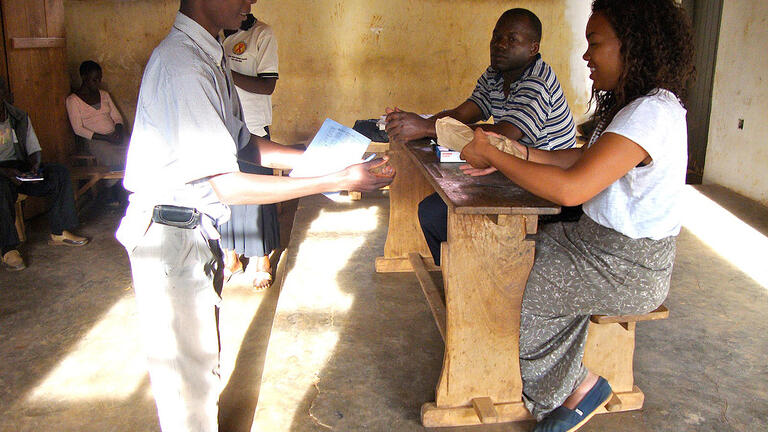 Mallory Browne '13 found her calling in Uganda.