Giving
Army Colonel Tim Kohn MBA '04 Supports the USF Mission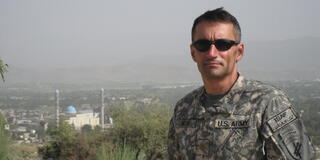 Tim Kohn has served in the Army for more than 25 years, overseeing civil military operations and building teams to support local communities in Haiti, Bosnia, and Afghanistan. There, he led a team that built the first girls' schools in a nation where girls struggle to acquire education.
"We couldn't build girls' schools fast enough. Getting everyone onboard with the purpose really encouraged my team to support the higher mission," said Kohn.
"We knew we were successful when grandparents would walk their kids to school. The belief in educating the next generation is very rewarding."
As an alumnus of USF, he supports the university in two ways: by hiring USF interns at the investment management firm he works at in Austin, Texas, and by planning a bequest gift to support future generations of students at the university.
Giving Back to the School of Management
A native of Santa Barbara, Kohn is vice president of Dimensional Fund Advisors, where he works with clients and industry partners to market, research, and implement new defined contribution investment solutions.
"I've always had a desire throughout my life to keep bettering myself  — there's always been a focus on growing," he said. "If I can encourage that in others, I will."
Kohn also remains active in the Army Reserve. He is used to being busy and engaged — he earned his MBA at USF while working full time.
"It's tough to stay motivated when you're driving back to the East Bay at 10 at night or spending all of Sunday studying," he said. "It was really a challenge. If it was easy, I wouldn't have wanted it, though. We had great camaraderie, and I really look back on it fondly."
He is glad to recognize his time at USF with a planned bequest gift that is simply part of his personal financial planning. "My gift will go the School of Management to support its programs and also for scholarships," he said
Kohn recalls his favorite professor in the MBA program was Kathleen Kane, who teaches advanced leadership, among other topics at USF.  "She was a great mentor and advisor for the MBA program," Kohn said.
Civil Affairs and Nation Building
Kohn, meanwhile, enjoys living in Austin, which he calls "the San Francisco of Texas." One of his passions is running — he's done 10 marathons.
He loves being involved in civil affairs for the Army and doesn't consider it a part-time job. Kohn is based out of Miami in the Southern Command.
"It's very personally rewarding," he said. "I'm surrounded by people who are in the prime of their careers, and people who are still committed to giving back."
Leaders, Kohn said, "find themselves having more to give."
Learn more about including a bequest that supports USF in your financial plan
This gift was made in support of Changing the World from Here: Campaign for the University of San Francisco.