Alumni
Cultivating Community in a Crisis
How the Hospitality Industry is Responding to COVID-19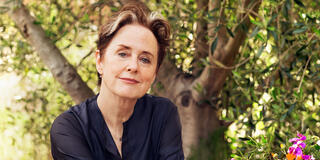 In 2019, 26.2 million people visited the Bay Area and spent $10.2 billion during their visits. The number one reason people visited the Bay Area was to eat at the restaurants, followed by sight-seeing, and visiting wine country. However, these numbers have drastically decreased in 2020 as the Bay Area has implemented shelter in place and physical distancing measures to curb the rapid spread of the coronavirus, directly impacting the hospitality industry across the region.
On May 12, 2020, USF hospitality professor Kathy "K.O." Odsather sat for a virtual conversation with Alice Waters, restaurateur, pioneer of the slow food movement, and owner of Chez Panisse in Berkeley, California, to discuss how the hospitality industry has been affected by the coronavirus pandemic and what it might look like as we begin to move forward. The conversation was part of a series of virtual engagement events that USF is hosting during this time of crisis to promote knowledge and bring our community together. 
Many see the measures implemented by officials as a necessary public health tool but the nature of physical distancing challenges the very core of hospitality — connection, community, and caring for one another.
"Chez Panisse is very lucky that we are one big family. It was imperative for us to take care of our family… The support comes from friendships that have gone on for 40, almost 50 years," explains Waters. "We know the employees need to be taken care of and the farmers need to be taken care of now too. We know that we can't open until there aren't (distancing) protocols so we are just trying to share food with everybody if they need it."
Hospitality Endures
According to Waters, this family mentality is what makes the hospitality industry perfectly poised to combat the challenges created by our current public health protocols because of the community-first mentality of the industry. Beyond creating delicious food, Waters explained how chefs have a responsibility to the planet and their communities, which means that they should purchase food from people who are addressing climate change and taking care of the planet.
"I imagine we will come back to locally produced food because we are going to really understand the seriousness of climate change and the relationship to the crisis," said Waters. "We have not been eating in a healthy way but we are going to demand that health begins in the soil. That soil is what is coming into our food." 
Waters praised the connection that USF has with Star Route Farms, as the farm was one of Chez Panisse's first partners in providing locally-sourced, organic food for her restaurant. Star Route Farms, which was purchased by USF in 2017, is the oldest continually running organic-certified farm in California. Today, the farm serves the community by providing local restaurants with fresh produce and gives students and faculty a wide range of educational and research opportunities.
Shifting Business Practices
Another challenge facing many restaurant operators is switching to serving people at their homes. However, while the health and safety practices make it more difficult to be in a physical community with one another, that doesn't mean that care for others is neglected. It just looks a little different at the moment.
"It's hard to operate in small restaurants with all the protocols because we can't be six to eight feet apart and does that make enough money to make it worthwhile," laments Waters. "[The restaurant experience] is something other than what it has been. The hospitality, the warmth, the hugs, the connection with people is so important to us. I think we will maybe figure out another way but it can't happen in the restaurant setting right now."
Now more than ever, the way that restaurants approach their food requires creativity. Despite this need for innovation, there remains an overwhelming need to feed people, one that existed before the COVID-19 pandemic. 
One way that Waters has shifted her efforts to educate children about food is by reimagining the food education program that began in Stockton, California before the pandemic hit. The program originally worked with all fifty schools in Stockton to provide organic lunches for students, but a philanthropist stepped in during the schools' closures, allowing the program to continue sharing healthy food with local food banks and continuing to build the relationships between schools and the local community.
Waters believes it will be imperative to incorporate lessons learned from this pandemic into students' overall education. One of those key lessons is an emphasis on the ever-increasing importance of humanizing academic subjects that might otherwise seem removed from our everyday lives. In her eyes, successful education comes down to how we can connect ourselves to the natural world and drawing students away from the societal desires of making money and finding the highest-paying job because that is what is expected. 
There has been a loss of true connectivity and community as every aspect of our daily lives becomes industrialized and optimized for output efficiency. The COVID-19 pandemic has helped our communities pivot their focus to how important connection is with one another, not only in our community but also in business along every step of the supply chain, from farmers to the restaurants to their customers.
"The best way to learn is by doing and we have been industrializing our schools like we did our farms. We are leaving the humanities out and driving towards making money," explains Waters. "But then we see what is happening in the business world - people eating at their desks, buying fast food. We are not eating much together with our coworkers… I think if we really communicate with one another, it'll really change the way that children experience education and they might just fall in love with it."
At the end of the day, hospitality is all about nourishing the community through togetherness. If anything, this pandemic presents the perfect opportunity to do just that —to help those who need it most.
Despite the setbacks facing the industry, Waters believes that resilience and ingenuity will propel the hospitality community through this crisis. "The hospitality industry will not be broken because we are doing things for others and that does not go away. We will find our way."
View the full conversation with Alice Waters »
To learn more about supporting the Hospitality program at USF, contact Diana Johnston, Director of Development, School of Management, at (415) 422-4068 or djohnston@usfca.edu.
Support is still needed in many areas as the situation continues to unfold worldwide. So we can continue to support our global USF community, please consider giving to the COVID-19 Response Fund.