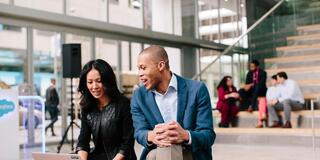 Witness, be exposed to, and learn the key concept of human-centered design; Design Thinking. Participate in a team simulation in the virtual space, in this critical area to product and service development. Work with a group of diverse individuals. Expand your ability to drive innovation in your role or a future role by understanding a key concept of human-centered design.
Program Highlights
Experience the principles of innovation in action by hearing from and working with some of the most innovative best minds in the Bay Area.
Learn skills in the human-centered design principles of Design Thinking.
Learn and listen from our list of guest speakers specialized in innovation and design thinking.
Participate in an engaging hands-on experiential design thinking simulation that will prepare you with the skills and knowledge to be applied in your day-to-day workspace.
Fun, insightful, and relevant simulation of a real-world design thinking problem."
Janine Ryle, Educator Communications Director at Cultivate Community Food Co-op
Program Details
Session 1
Introduction to Design Thinking
Workshop: Experience Innovation - Design Thinker Simulation - Part I
Session 2
Company Speaker
Workshop: Experience Innovation - Design Thinker Simulation - Part II
Session 3
Applying Design Thinking Principles to Innovation Challenge
Session 4
Group Presentations and Feedback
Closing Remarks
Who Should Enroll?
Students, executives, or individuals looking to experience and learn the fundamental skills of Design Thinking.
Mid-level & senior managers looking to drive innovation in their company or organization.
Professionals in a career transition looking to expand their skills.
Recent graduates wishing to enhance their skillsets for greater career advancement.
I enjoyed learning about the design thinking framework and how it engages with others as part of problem-solving. It shares concepts from the scientific method, which was relatable and familiar to me."
Marc Ong, Nurse Staff Nurse at Burn ICU
Faculty and Speakers
Rebecca Tower
Adjunct Faculty, University of San Francisco
Rebecca is the founder and principal consultant of ThoughtPartner, a strategic management consulting company for new ventures. Her background includes participation in the development of 4 new markets; sports marketing; digital adverting; the prepaid card industry and nanotechnology in healthcare; resulting in two successful IPOs.
Holly Thorsen
Senior Manager, Design Thinking Learning and Development - Intuit
Adjunct Faculty, University of San Francisco
Holly Thorsen is a senior-level organization development leader guiding organizations to create cultures of innovation for those needing to be customer-centric, collaborate, and scale. Holly combines expertise in systems thinking, individual and team coaching, learning simulations, design thinking, and applied theatrical improvisation to build, pivot, and scale state-of-the-art learning and organization development programs targeted at Innovation.
Holly is currently the Senior Manager of Design Thinking Learning and Development at Intuit, maker of Quickbooks, TurboTax, and Mint. At Intuit, Holly and her team create a culture of innovation by coaching Intuit teams and leaders to get empathy for customers and experiment.
In only 6.5 hours, I quickly was able to understand the concepts and had some time to practice."
Derrick W. SDR SaaS Sales Development Representative at Better Up
Costs
Standard Program (4 sessions): USD $999 per person
Current USF Students, Alumni, Faculty, and Staff: USD $649 per person
Early Signup: $799 Public, $499 Students & Alumni
For groups of 5 or more, please contact us for additional information and group pricing.
Application Process
All applications will be reviewed on a first-come, first-served basis. We will get back to you with a one-week time frame with an application decision.
Upon admission, payment details including an online payment link will be sent by email.