Engaged Learning
What Happens When a Master Japanese Sushi Chef Goes on a Worldwide Tour?
USF makes sure he stops here along the way to teach our community a thing or two about sushi!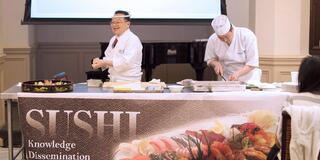 More than 100 USF students and industry professionals are now "sushi certified," thanks to the USF Hospitality-Food and Beverage Department (along with the Japan Ministry of Agricultural, Forestry and Fishery; Golden Gate Restaurant Association; All Japan Sushi Association (AJSA); and Sushi Skills Institute Japanese Consult). See what happened when a master Japanese sushi chef and restaurant owner traveled across the globe to visit USF on his mission of sharing the history and method behind sushi making with people around the world.
On Wednesday, February 24, a Sushi Knowledge Dissemination Course was held in place of USF Executive Chef Instructor Jean-Marc Fullsack's Food-service, Culinary Arts and Entrepreneurship class. Along with Japan, Hong Kong, Sao Paulo, Singapore and Paris, San Francisco is just one of six cities globally that hosted this course.
Image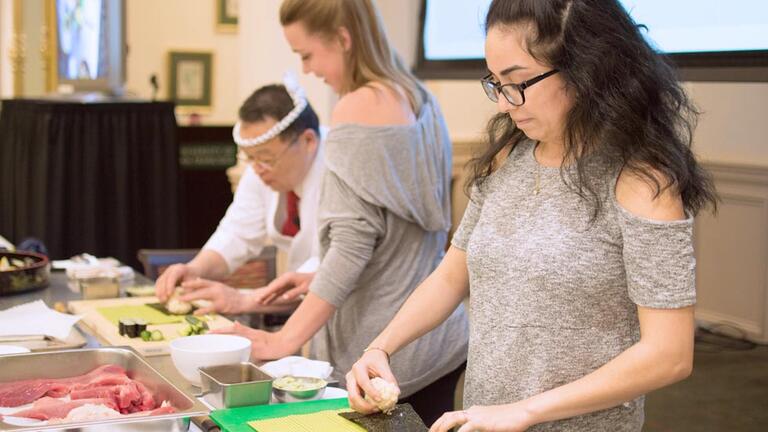 Who
Chairman of Chiba Prefecture Sushi Business & Hygiene Union, Executive Director at the All Japan Sushi Association and Representative Director of World Sushi Skills Institute, Masayoshi Kazato, traveled all the way from Japan, accompanied by his son, to teach this course as part of their sushi skills seminar tour. To lend a helping hand during the instruction and facilitation of the course, a team of seven professional chefs were flown in.
This was a free course open to hospitality and industry professionals, current or aspiring chefs, students and anyone interested in learning about Japanese cuisine or how to prep and cook. As a result, 90 industry professionals sat in on the first, afternoon-long session, while 40 students attended a special evening session.
The chef session was filled with vast information for them as well as the student session—a lot of information in a short amount of time. The information really opened their eyes. –Jeff Scharosch, USF Hospitality professor and General Manager at the restaurant Spinnaker in Sausalito
What
For the second year in a row, USF has hosted Kazato.
Throughout the course, attendees learned an array of Japanese knowledge.
History of sushi
Rice preparation
Fish and materials needed
Proper slicing of fish
Cutting materials
Traditional sushi making methods
Importance of hygiene
At the end of the course, all attendees received a certificate that read:
This is to certify that you have successfully attended the lecture of Sushi Knowledge Dissemination Course and learned basic knowledge of sushi skills. –World Sushi Skills Institute Certificate Association
It wasn't just for basic level skills. They went into much detail as far as how to do a roll, what fingers to use as far as putting the wasabi on. It was very technical, which is great. –Scharosch
Image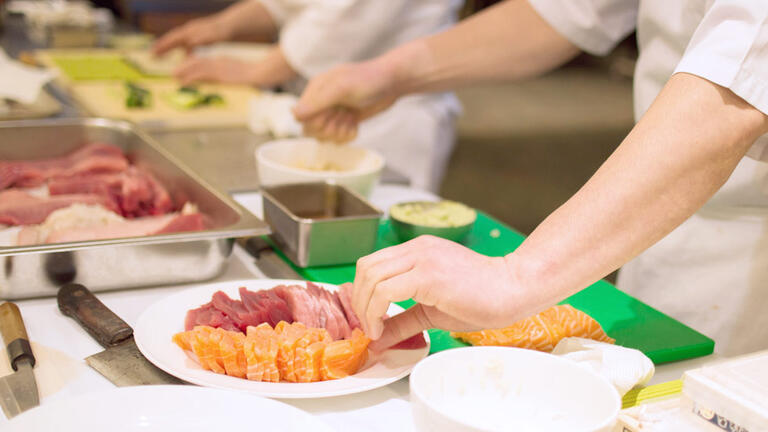 Why
Sushi is extremely popular in countries other than Japan, yet there is a void when it comes to proper techniques meant to be used in the making of sushi. The mission of this sushi seminar was to fill that void, around the world, by communicating the correct sanitary cooking techniques as well as the history of sushi.
It really makes you appreciate sushi and how much more complex it is than you think. There are very few ingredients, but it's more about the technique and flavor. The Japanese have mastered this very subtle taste, but yet very clean and natural flavor. –Fullsack
Relaying these lessons and showing how much goes into the preparation process means that the food and culture of Japan will also shine through.
Something that Kazato and his fellow chefs talked about last year that especially resonated with Fullsack and Scharosch was "umami." Invented by a chemist at Tokyo University, umami, is considered a part of one of the sense of taste. It translates from Japanese as a yummy, savory or delicious taste. "The concept of sushi is to be clean and natural, in order to truly understand the taste of fish. The Japanese seasoning (rice vinegar, salt and sugar), the seaweed, wasabi and soy sauce, all those ingredients, add and bring out the umami in the food," said Fullsack.
Next year's event is already being planned. And in case you were wondering, they did get to try the sushi at the end of the course, which consisted of fish sent in straight from Japan.
"I have never experienced such high quality sushi in my life," said Fullsack.
By Brandi Licciardo