Passion for Justice
USF Places 3rd in Challenge for Charity Competition
Image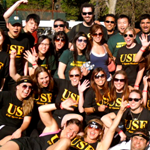 For the second year in a row, the USF team has placed third in the annual Challenge for Charity (C4C) competition. C4C is the nation's largest charitable organization made up of MBA students, in which business schools compete in volunteering and fundraising activities. Over the past year, the nine competing West Coast business and management schools have raised a whopping $6.3 million, with over 16,000 hours of volunteer work completed by their teams.
"Last year's competition was a hard act to follow, but our students always rise to the challenge," said the C4C team faculty advisor and mentor, Claudia Roehl. "The C4C competition is a lot of work. Our students compete against extraordinarily good schools, and I could not be more proud of them."
Every year's efforts culminate in the C4C Sports Competition Weekend, a weekend during which the students compete in 28 different sports and athletic events. A trophy called the "Golden Briefcase" is awarded to the school that achieves the most hours volunteered on a per-student basis, most funds raised on a per-student basis, and best all-around athletic performance at the C4C weekend. This year, the University of Southern California took first place, and the University of Washington took second place. USF's third place finish placed us above Stanford, UC Berkeley, UC Davis, Pepperdine and others in this very competitive competition hosted by Stanford.
"C4C offers not only a way to get to know classmates better, but also a way to give back to the local community, and network with other top schools at the Sports Weekend," said USF's C4C Chapter Co-President Shea'l Rivas. "We definitely faced several obstacles during the year, but the whole school pulled together, including faculty and staff, to help reach our fundraising goal. It took every single person who helped in any way to get us our 3rd place finish."
"Participating in the C4C competition every year is great for three reasons," says Professor Roehl. "Firstly, it's an opportunity for us to really put the USF Jesuit mission into practice. Secondly, it's an opportunity for students across USF's various MBA programs to connect with each other and to connect with new organizations by volunteering -- putting in the hours and raising funds for them. Thirdly, it gives our students the chance to connect with students at other business schools. During the C4C weekend, there is a lot of collaboration between the different teams and it's a great opportunity to meet them on a level playing field."
C4C's purpose is to develop future business leaders with a lifelong commitment to community involvement and social responsibility. Since C4C's creation 29 years ago, its primary beneficiary has been the Special Olympics. To help each chapter focus their efforts further, additional charities are chosen by each school from their surrounding communities. "Helping our charities with the funds we raised and the hours we volunteered couldn't be more rewarding," said Ms. Rivas.
"C4C taught me a great deal both on a personal and professional level," said USF's C4C Chapter Co-President Joanna Komvopoulos. "As a team we learned to face hurdles, work together, and ultimately make a little bit of difference through our work to support the SF Food Bank, the Special Olympics, and the Network for Teaching Entrepreneurship -- three incredibly honorable non-profit organizations. Not only did our team turn into lifelong friends but we were able to see the impact of our work in the lives we touched, which we carry with us into our professional lives every day."
"It's not about the competition," says Roehl. "It's about involvement and giving back to the community." Roehl is currently pulling together this year's team, and she notes, "Each year the foundation of USF's C4C chapter gets stronger and stronger because of the incredible work the previous students and alumni have done. Every year we are growing and building our organization."