Alumni
USF MBA Students Help Shape The Future of Luxury Medical Apparel
Image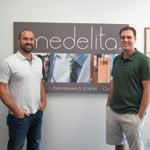 8/1/2011
San Clemente, California

Often times the greatest misconception in the $4.3 billion medical apparel industry is that purchasing decisions are primarily driven by price. Two students from the University of San Francisco's MBA program intend to change that perception.  They have both joined a young start-up, Medelita Lab Coats and Scrubs, based in San Clemente.  Medelita designs, manufactures, and sells unique, upscale medical apparel that was previously non-existent in the medical uniform market place.
Jamie Beuthin has been with the company as its Director of Operations for just over a year.  After completing his first year of the MBA curriculum he was recruited by the President of the company to oversee what has become triple-digit growth since his first day on the job.  Jamie's limited experience in the classroom has paid off, "While I expect to complete my MBA degree within the next few years, I felt I had to take a leave of absence to apply what I had already learned to an amazing opportunity.  For the last year I have touched everything from sourcing, manufacturing, and fulfillment, right on to investor relations, sales, and of course, customer service."  Now in it's 3rd year of operations, the company is poised to take advantage of partnerships with top international distributors in order to grow at an exponential pace, all based upon a set of products designed by the company's CEO, Lara Manchik-Francisco, a clinician whose hands on experience with boxy, unisex lab coats and scrubs led to this project.
Image

Dan Stepchew, a 2011 graduate of the USF MBA program joined Medelita immediately after his graduation ceremony in May, and is currently in charge of growing the company's organic e-commerce revenue as it's e-commerce marketing manager.  "This represented the best opportunity for me to apply some key learning points I took from the entrepreneurship program, specifically how to transform a commoditized product like a lab coat into a luxury item, take it up-market and establish a new category."  He explained further, "Medical apparel is worn by distinguished medical professionals all day, every day.  There is no reason why they shouldn't want to look and feel distinguished, especially while establishing trust and confidence with their patients."
Both of the MBA students had the same piece of advice for current or entering MBA students at USF: "Don't ever underestimate the value of your peers in the classroom.  These people are highly likely to become your future coworkers, partners, clients, and lifelong friends.  If you can prove to them that you're a skilled asset to any classroom group, this will ultimately provide your classmates with a good reference in a future business setting."