Alumni
USF MBA Alum Becomes CEO of Guaranty Trust Bank In Nigeria
Image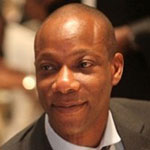 Lagos (WorldStage News online)-- Guaranty Trust Bank Plc has appointed Mr. J.K Olusegun Agbaje as the Managing Director/ Chief Executive Officer effective from June 22, 2011.
Mr. Agbaje holds both a BBA (Accounting, '86) and MBA ('88) from the University of San Francisco USA, and is an alumnus of the Harvard Business School. He joined Guaranty Trust Bank as a pioneer staff in 1991 and rose through the ranks to become the Deputy Managing Director in August 2002.
His investment and international Banking experience spans over 19 years and was instrumental in putting together Guaranty Trust Bank's landmark US$350million Eurobond offering in 2007 and the listing of its US$750 million Global Depository Receipts (GDR) in an unprecedented concurrent global offering in the domestic and international capital markets which made the Bank the first Nigerian company in Sub-Saharan Africa to be listed on the Main Market of the London Stock Exchange.
He currently serves on the boards of Guaranty Trust Assurance plc, Guaranty Trust Bank Ghana, Gambia and UK.