Alumni
USF Management Concurrent Degree Alumnus Opens New Law Firm
Image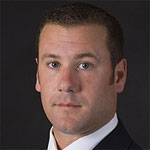 Constantine "Gus" M. Panagotacos J.D./M.B.A. '05 (a School of Management Concurrent Degree Program) — along with Ryan T. Dunn '01 (Law) — has opened Dunn & Panagotacos LLP, their own firm in downtown San Francisco. The boutique firm specializes in personal injury and business litigation.
In his MBA work Mr. Panagotacos had an emphasis in international finance. While at USF, he worked in the Investor Justice Clinic, handling arbitration claims with the NASD (now FINRA) and negotiated favorable settlements for clients.
Mr. Panagotacos earned his B.A. from Cal Berkeley in 2001 where he was a member of the Varsity baseball team. He was also a member of the Greek Olympic Baseball team and traveled with the team to Athens in 2004. He also played for Greece in the 2010 European Baseball Championship in Stuttgart, Germany, where his team placed fourth overall.
Good luck to both Gus and Ryan, and thanks to Erica Levison, Associate Director of Development and Alumni Relations at the Law School for the news tip.