Global Perspective
School of Management Students Take Their Studies Overseas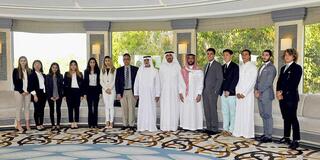 Master in Nonprofit Administration (MNA) student Jane Tobin '18 went on the week-long Academic Global Immersion (AGI) trip to Rome with her cohort and students from other programs. She said, "I like the model of living your education--which USF supports with academic global immersion experiences." Tobin explained that because of course professor and MNA program director Dr. Marco Tavanti's connections to non-governmental organizations and government agencies in Rome, the trip was "a unique learning opportunity."
For over 15 years, Tobin has been working hands-on in the nonprofit field. She pursued her MNA degree because she "wanted to get the best practices and have a broad understanding of nonprofit management."
For her capstone project Tobin, and fellow student Mary McInerney Nonprofit Administration '18, co-authored a paper together that was inspired by and based on a presentation Tavanti gave at a United Nations celebration day. Tobin and McInerney's paper focused on "defining the humanitarian crisis and the factors at its root cause, and then creating a model for a human rights-based solution." Throughout the paper, they included the stories of the refugees they met during their trip. "Sharing their stories humanized an academic paper," said Tobin, "We couldn't have done that without the AGI experience." In June, Tobin and McInerney had the opportunity to travel to Massachusetts to present their paper at the College of the Holy Cross for the annual Jesuit Universities Humanitarian Action Network.
The [AGI] experience forced me to dig deeper into the underlying issues and consider solutions to the humanitarian crisis. In December I will begin working with a nonprofit based in San Francisco that is working in Africa and Greece with refugees.
Jane Tobin Nonprofit Administration '18
---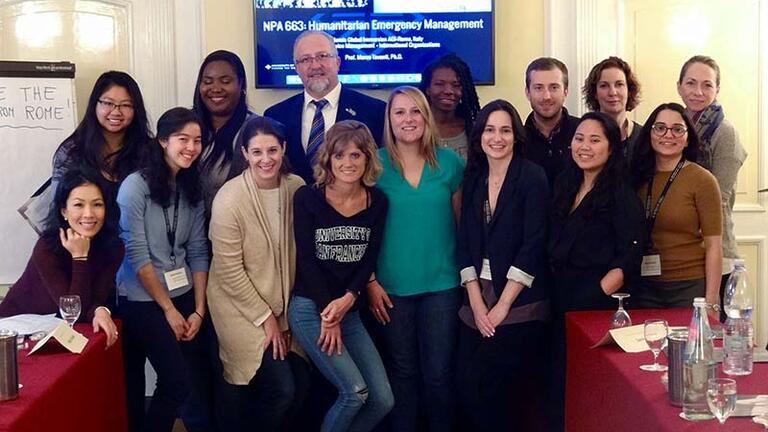 Another student, Emily Grossman Nonprofit Administration '17 took the Humanitarian Emergency Management AGI class because she felt she needed to gain more knowledge on the subject.
"We got to go to Rome for the experiential learning component, where we heard firsthand from practitioners, policy experts, and resettled refugees on the current global crisis," Grossman said.
"I learned that refugees face terrifying situations and impossible decisions and that most want to stay at home or close to home when it's possible," Grossman explained. "Refugees are usually not coming to Europe or the U.S. or elsewhere to 'steal jobs' or harm anyone -- it may literally be the only way to survive, to have any sort of future. I saw that anyone could become a refugee in the blink of an eye, and refugee communities are some of the most resilient in the world."
Grossman expressed that she really enjoyed getting to have this learning experience with her cohort: "it was inspiring to see that we all shared a passion for refugees, humanitarian relief, and collaborative approaches to the issues."
For her capstone project, Grossman's focus was on innovation in the social sector, "specifically what it takes for nonprofits to build capacity to innovate." Her project stemmed from a case study she had to research for the AGI course. Another important project for her trip was working on the USF for Freedom conference.
---
Rayeann Leatherwood Business Administration '18 is an undergraduate student who went to Dubai, United Arab Emirates for her Academic Global Immersion. When one of her friends went on the trip the year before and had nothing but good things to say about the experience, Leatherwood made the spontaneous decision to embark on this journey. Additionally, many of her friends studied abroad but her schedule did not allow her too; however, she explained this trip was a good opportunity to make up for that.
Leatherwood explained that she never saw herself venturing out of the U.S. for a professional career, but after completing the trip she said, "It was evident to me that if I wanted to, I could move there, and live there, and work there, and really enjoy it."
Image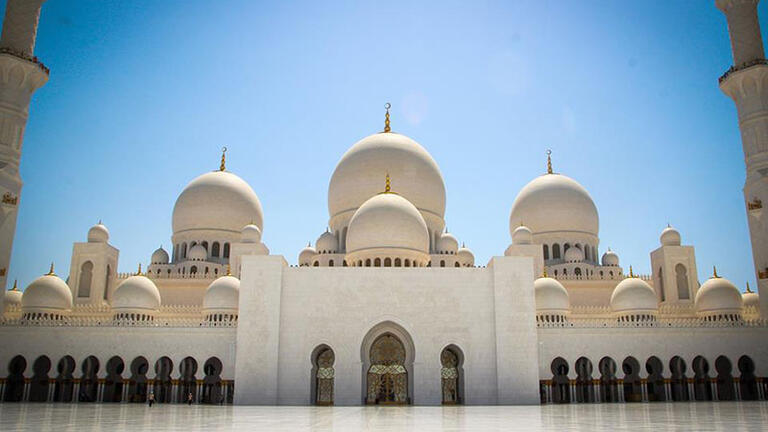 On the trip, the students go on various company visits and even had the opportunity to go to Abu Dhabi to see the Grand Mosque and meet Prince Nahyan bin Mubarak Al Nahyan. "He had a lot of really cool things to say, and he's a very open-minded, optimistic, and wise person… he just has a lot of hopes and desires for the UAE and it's just beautiful to see that unfold," Leatherwood said.
A big takeaway for Leatherwood was learning about different cultures. She said course instructor Mouwafac Sidaoui was very helpful in preparing and informing the students before the trip on how to act professionally in a different cultural setting.
The immersion provides the students with opportunities to build a portfolio with real companies, as well as learn new cultures and break barriers.
USF Professor Mouwafac Sidaoui
Sidaoui explained that the trip "also cultivates components of global competency" in order to improve their understanding of the significance of data's role in global businesses.
Leatherwood confirmed she learned a lot about access to data and how to analyze the data of companies on the trip and explained "I would recommend this trip to anybody, even if you're not that interested in data. It's a great way to learn about different cultures and how they operate."
Another undergrad Lupo Benatti Business Administration '17 is an international student from Italy that went on the trip to Dubai.
"I love to travel. Discovering new places for me is a super beautiful thing," he said. Benatti didn't know much about the Middle East before the trip, but he heard that Sidaoui's class dug deep into the culture, the traditions, and the business.
Benatti explained that if he had gone to Dubai for ten days on his own, the experience would have been entirely different, in the sense that he would never have gained the enriching knowledge he did from professor Sidaoui and through his class.
"In the future, I hope to be able to have a job that allows me to travel," he said. He hopes that his peers on the trip also saw the beauty in traveling. Benatti said traveling with his cohort was "interesting, engaging, and also a good experience to learn from other students."
"I would push people to seek outside their circle… and try to experience the world," he said.
By Lonny Wysard