Equipped to Lead and Succeed
School of Management Recognized for Entrepreneurial Resources and Alumni Success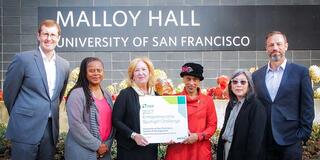 ---
Recently, the Gellert Family Resource Center was recognized as one of the 35 schools selected by the Association to Advance Collegiate Schools of Business for their entrepreneurism.
The Association to Advance Collegiate Schools of Business, the accrediting body of all business schools, recognized the University of San Francisco School of Management's Gellert Family Business Resource Center in the Entrepreneurial Spotlight Challenge. An international recognition that only 35 schools received this year--USF was up against tough competition from schools all over the world.
The University of San Francisco is being recognized this year in AACSB's Entrepreneurial Spotlight Challenge for its commitment to fostering in its students the creativity, problem solving, and innovative mindset required of future business leaders," said Thomas R. Robinson, president and chief executive officer of AACSB International. "Core to AACSB's mission is ensuring that the future of business education is built on innovative and cutting-edge thinking, exemplified by the Gellert Family Business Resource Center, which we are proud to showcase.
Associate professor Monika Hudson explained that the reason USF was chosen for this recognition was not only because of the notable courses, but also because the university has produced several alumni entrepreneurs. She said, "What was so critical for our getting the award was that we have undergraduate alums who have gone on to build on their own businesses." One example Hudson provided of a successful entrepreneurial alum was Ardian Zagari BSBA '10, a member of the Gellert Family Resource Center advisory board; he was also a child of a family business who went on to co-own and work as the CEO of the commercial real-estate company Brevitas. Hudson expressed her hopes that the recognition from the AACSB will continue to build the School of Management's reputation.
"On the undergraduate, and probably on the graduate level as well, we're about 50% international students, and about 80% of those international students come out of a family businesses," explained Hudson. "This award both recognizes those families who are supporting their children in coming here because there's an expectation that they'll learn entrepreneurial skills but that hopefully they'll apply it within the family business; that whole notion of innovation and creativity that really are part of what makes an entrepreneur is what we embody in our family business courses...we're hopeful that this is in support of that effort," she said.
The Gellert Family Business Resource Center offers three courses: Family Business Theory; Practicum in Family Business; and an Academic Global Immersion in Colombia.
"There's nobody else from the Bay Area… so I think that's part of what helps distinguish USF," Hudson said. "We're small but we're supporting our students in that particular way, even without some of the resources other universities might have."
By Lonny Wysard