Global Perspective
Professor Xiaohua Yang's MBA Class Visited the World's Second Largest Telecom Equipment Company—Huawei Group
On April 10, 2012, Professor Dr. Xiaohua Yang and the MBA students from her Globalization of Chinese Business class had the unique opportunity to tour Huawei's R&D facility in Santa Clara, CA. Founded in 1988, Huawei is a leading global ICT solutions provider, and possesses end-to-end capabilities and strengths across the carrier networks, enterprise, consumer, and cloud computing fields. Huawei is now one of the fastest growing multinational companies in the world with a sales volume of over $32 billion in 2011, and a business presence in over 140 countries.
Image
Vice Presidents, Senior Directors, and Senior Managers of Huawei greeted our group as the tour began at the R&D facility. Here we were given a full tour of Huawei's R&D labs where some of the most innovative technologies are being developed. The tour then moved to another facility where we were given a presentation of the Company and their products.
Image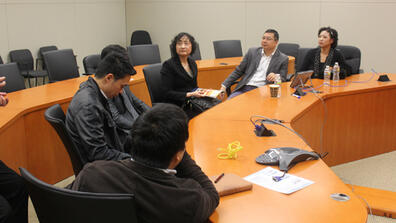 The finale of our visit ended in a live demonstration of Huawei's new innovative technology of teleconference equipment: the party was divided into two groups in two independent teleconference rooms in separate buildings. We witnessed firsthand the clarity as well as speed of Huawei's state of the art equipment as we conducted an open discussion to further understand the technology.
Image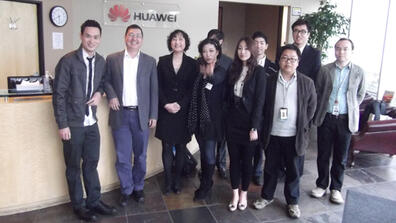 It was a wonderful opportunity to be able to meet senior-level executives and line people from China's largest and the world's second telecommunication equipment manufacturer and gain insights on successes and challenges a Chinese multinational corporation faces in "going global". Our class felt fortunate to be able to see the inner workings of an important local community member right here in the Bay Area.