Global Perspective
How Natassjia Reid is Changing Her Home From Here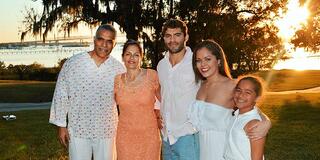 School of Management student Natassjia Reid BS Business Administration '19 is taking a stand to help her homeland of Dominica after the devastation brought by Hurricane Maria.
Natassjia Reid Business Administration '19 is double majoring in international business and entrepreneurship and innovation. She's from the small Caribbean island of Dominica, where many of her family members and friends still live. Due to Hurricane Maria, Reid's home country was devastated.
"The country has an extremely special place in my heart and when news broke of how catastrophic the damage done by Hurricane Maria was, I knew I had to take action immediately to help aid the people of Dominica," said Reid. So she, her brother, and her sister teamed up to create a GoFundMe page to provide support and relief to those suffering. In less than a month, they raised over $45,000. "My parents flew down to Dominica for a week to distribute the money to individuals, relief shelters, and brought much needed supplies down for Dominicans."
After hearing about Reid's work, Organization, Communication and Leadership professor Keith Hunter said,
"No matter how far away, no matter how modest the means, our students represent our University mission time and time again by taking part in easing suffering and engaging with gritty problems."
Organization, Communication and Leadership professor Keith Hunter
Reid explained that timely contribution is key since it will take years to rebuild the country. "I would like people to know that it is extremely important to get involved in issues affecting not only your immediate community but within the world," said Reid. "Countless communities are not as fortunate as we are here in the United States; they lack the resources, money, infrastructure, and government to help them continue their progress. It is important to love and support one another in times of need. It fills our world with much needed hope."
The devastation to Dominica has not just greatly impacted her emotionally. As an international business and entrepreneurship major, Reid also felt the economic effects. "After graduating, I had hoped to go back to Dominica and focus on my career of buying over my grandfather's small run company, and building the brand enough to be able to export it internationally," she said. However, the damage done by Hurricane Maria caused her post-grad plans for the future to change. "I need to focus on helping rebuild the country first, then focus on my future career. Supporting the multiple communities that helped shape who I am today is something I really value," she said. "I think this fundraising experience has really highlighted how important it is to help others in any way possible. As a future entrepreneur, I hope to be able to be successful enough to be able to give back to the communities that need it the most."
By Lonny Wysard