Global Perspective
First Cohort in the Global Hospitality Management Program Attends USF
Four Students Join New Exchange Program
During fall semester 2015, four students in the Global Hospitality Management Program (GHMP) attended USF. The GHMP is an 18-month program where students spend a semester each at Chinese University of Hong Kong, China; Hotel Management School of Maastricht in the Netherlands; and the University of San Francisco.
This is a new student exchange program, and the students from Maastricht are the first cohort to attend USF. Jennie Omella Kengne Kamga Moche, Jacqueline Mooren, Charlotte Eleanore Willems, and Christopher Heinzemann, participated in an interview with HM to share their insight and perspective on the GHMP. 
Tell me about the Global Hospitality Management Program. How is it structured?

Christopher

: We apply about a semester in advance, which includes requesting a visa. The way it works for us is that we start in Hong Kong, and in Hong Kong we meet students from the partnering schools - Hong Kong and University of San Francisco. We participate in classes as a cohort. After a semester in Hong Kong, everyone in the GHMP then goes to Maastricht. We spend a semester together in Maastricht, and when that semester is complete, after summer vacation, we all travel to USF together and spend a semester there.

 
Why are you interested in being a part of the GHMP?
Charlotte

: I was interested because it is such a great opportunity to meet other people and go to other countries and learn how hospitality is seen in other universities, instead of just being familiar with my own university.

Jacqueline

: I was interested in attending other universities, which are very different from our own – for example USF is much bigger than our home campus. It has been great to see the whole experience of how other people experience the university.

Jennie

: For me it was to understand what hospitality means from another perspective, rather than just reading it in books. Also, for the cultural experience. Sometimes we think we know the cultures based on what we have read, but then when we get there, we realize it is very different. Also, just learning and seeing how other people operate in businesses is very different and good to learn. And of course, getting to know these different countries and the people was really nice.

Christopher

: I think it is very important to put yourself outside of your comfort zone. It is the fastest way you can learn about yourself and about the profession of hospitality. Being open to new experiences is a good way to develop yourself. And also, it is a lot of fun!
What profession do you wish to pursue after your studies in hospitality?
Christopher

: I have come to the realization that I really like marketing. I began to realize this when I was in Hong Kong and that feeling grew even more here at USF, where I registered for several marketing courses. Eventually, I would like to work in marketing within hospitality and eventually move to a regional office or headquarters of a hotel.

Jennie

: I'm interested in human resource management. After visiting the different schools and after the first internship I completed, I noticed that people operate very differently – not only among people in the same company, but also among the different countries. I find this interesting, but I think it can also be very challenging. Not many people get to travel and visit many places like we have in this group, and I would like to use this experience in human resources. 

Jacqueline

: I am also interested in human resources. For me it is mostly the cultural aspect – I like interacting with people from different cultures. My goal is to work in human resources within the hospitality industry.

Charlotte

: I want to use my education in hospitality outside of the hospitality industry. I am interested in marketing, but I am also interested in consulting. So rather than staying in a hotel or restaurant, I would like to advise other companies, such as hospitals and banks, on how to be more hospitable.
Does the Hotel Management School of Maastricht require you to complete professional development experience?
Jennie

: Maastricht requires you to complete two semesters of professional experience (internship). The way it is structured is that we work two entire semesters – our first internship is completed during our second year in school and the second internship is completed during our last year. It is like working five months full-time during each internship. We do not take classes during our internship; we just focus on the internship.

Christopher

: In most cases, Maastricht does not allow Dutch students to complete their internship in the Netherlands. They encourage you to go abroad so you can experience working in other countries.
Where did you complete your first internship?
Charlotte

: Honjo, China working in food and beverage.

Jacqueline

: Miami, Florida working in both the front desk and housekeeping at a spa.

Jennie

: Cameroon, Africa at a Starwood Hotel working in marketing and sales, specifically with banquet and events.

Christopher

: Tokyo, Japan at the Four Season. I was a Guest Services Officer.

 
How have your studies at USF been different than in your home country?
Jacqueline

: At USF you create your course schedule. For us, this is very different as our course schedule is set up by our school, which makes it a lot less dynamic, but it is safe as you know which classes you are supposed to take. Also, we are used to spending one semester on one project that is covered in all of our courses. Here, each course subject works independently from the other courses we take. 

Christopher

: USF's academic system is very similar to Hong Kong. I guess the one that is different is Maastricht.

Charlotte

: With the USF system you can choose courses that are more focused with your specific career goals. For me, I now have more experience with marketing and branding because I was allowed to select these courses.

 
What can you share with Hospitality students at USF that may interest them to participate in the GHMP and attend your school?
Christopher

: If one of the reasons you might hesitate in participating in this program is because you fear you will be in another country by yourself that is not necessarily the case. For example in Hong Kong, there were 600 other exchange students. So by no means did I ever feel lonely. I had a lot of people to make friends with. Meeting so many new people is one of the best experiences of this program. I didn't even want to go back home!

Charlotte

: If you come to Maastricht, you will be so close to so many other countries, which I think other students would really like because it would allow you the opportunity to travel throughout Europe. 

Jacqueline

: Another thing nobody has to worry about is the language barrier because everyone in Maastricht takes their coursework in English. We don't event take courses in Dutch.

Jennie

: Both of the other countries are less expensive than San Francisco. For example, the dorm in Hong Kong was $700 for the entire semester and in the Netherlands, rent will cost you $350 per month.
Have you taken advantage of traveling during your stay?
Charlotte

: I think all of us have done some traveling. I took advantage of going to Los Angeles, San Diego, Las Vegas, Grand Canyon and Yosemite. Those places are quite close, which is why several of us took advantage of traveling there.

Jennie

: Travel in Hong Kong and Maastricht is easier than here in the U.S. If you want to travel and visit other countries, it is easy to do in the GHMP.

Christopher

: People always ask me, did you prefer Hong Kong or San Francisco? I really cannot answer that. They are both so different from each other and my home school. It has been such a good experience!
If you are a sophomore and interested in participating in the Global Hospitality Management Program (GHMP) and spending your junior year in Hong Kong and the Netherlands, contact your major advisor or Department Chair Michael Collins.
Written by: Gina Alvarez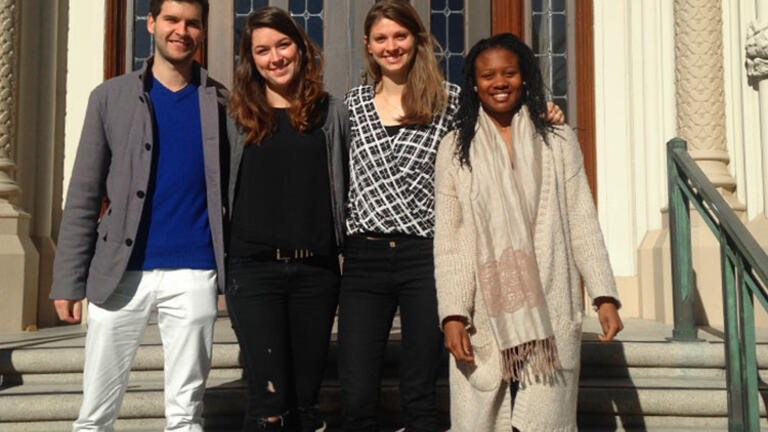 New exchange program students from the Netherlands are the first cohort to attend USF. Jennie Omella Kengne Kamga Moche, Jacqueline Mooren, Charlotte Eleanore Willems and Christopher Heinzemann