Global Perspective
Financial Times Ranks Global Entrepreneurship Management Among Top 50 Management Programs Globally in 2018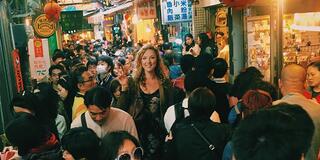 The USF School of Management has proudly been recognized for a host of cutting-edge graduate programs.
This Fall 2018 it is with great excitement that the Master in Global Entrepreneurial Management (MGEM) has been ranked among the world's top 50 management programs by the Financial Times, with a #44 placement. This is the third consecutive year that the Financial Times has ranked MGEM among the world's top management programs.
Assistant Professor and MGEM USF Program Director Gleb Nikitenko believes that the ranking is the result of the program's innovative design and impactful instruction, especially within the real-world, practice-oriented projects.
"MGEM's alumni community is also full of successful students who have opened new opportunities for aspiring managers and entrepreneurs all over the world," he says.
MGEM epitomizes what the contemporary globalized and entrepreneurial business network has evolved into across the globe. Whether it is in Asia, Europe, or the Americas, the multiplier effect of business entrepreneurship has manifested itself in revitalizing local economies, creating jobs, and solving societal problems at an increasingly rapid pace.
Gleb Nikitenko, Program Director 
As the only partnership of its kind between Jesuit universities around the world, the MGEM program enables students to learn entrepreneurship in three international settings. For one year, students study at three leading business universities for four months each, beginning with fall semester at the IQS School of Management in Barcelona, Spain, then winter semester at Fu Jen Catholic University (FJU) in Taipei, Taiwan, and ending with summer semester at the University of San Francisco.
Mark Cannice, Department Chair and Professor of Entrepreneurship and Innovation, acknowledges the many parties who have supported MGEM's continued success.
"The department of entrepreneurship, innovation, and strategy is delighted that the MGEM Program has again gained international recognition. We are grateful for the tireless work by the USF, IQS, and FJCU program directors and their support staff in creating an excellent educational experience for our MGEM students," says Cannice.
Congratulations to the MGEM program for continuing to lead in the study and practice of management education.

By Abbey Young