Campus Life
A Contemporary Look Into Violence Against Women
Image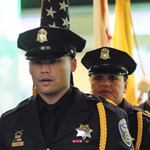 The School of Management at the University of San Francisco and the San Francisco Police Department co-hosted the 18th annual Law Enforcement Leadership Symposium. This year's two-day symposium focused on law enforcement strategies as they relate to violence against women, specifically domestic violence and human trafficking. A group of distinguished speakers including Mayor Ed Lee, U.S. Attorney Melinda Haag, Judge Scott M. Gordon, supervising judge family law division for the Los Angeles Superior Court, George Gascon, San Francisco District Attorney, and representatives from the San Francisco and Greater Bay Area police departments focused on topics related to this year's theme, "A Contemporary Look into Violence Against Women."
While the theme changes every year, relevant and current challenges are highlighted. School of Management Dean Mike Webber stated, "Violence against women is both timely and critically important. According to the World Health Organization, globally 30% of women have experienced on-partner violence globally and intimate partners are responsible for 38% of murders against women. The issue clearly has long term physical, mental and emotional repercussions and effects."
The discussions held shed light on continued efforts by law enforcers who respond to domestic violence and human trafficking cases within the Bay Area community and abroad. Although each day was dedicated to exploring one of the two sub-topics, both talks highlighted similar repercussions resulting from both crimes against women. Sergeant Bill Schwartz, South City SFPD said, "We have to move away from criminalization and start recognizing these women for what they really really are. They are victims. But we also have to understand who the real criminals are and put them behind bars." Both conversations centered around the awareness, sensitivity, safety of victims, the legislation behind those affected, and using the resources available to intervene and effectively prosecute the perpetrators.
Image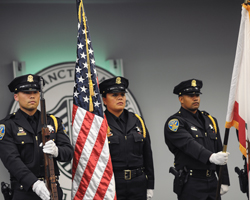 What makes these crimes so difficult to investigate are the complex and cyclical dynamics that are involved for both acts. Judge Gordon said, "The most important lesson the courts have learned in the last thirty years is precisely what makes domestic violence so complicated from both an emotional standpoint for the victim and also from a legal standpoint in the eyes of the courts, domestic violence is never just about the acts of violence, it is about a cycle of power and control."
Panelists also discussed ways to systematically identify the difference between domestic violence and human trafficking. "Know how to differentiate between domestic violence and human trafficking cases and the infrastructure of sex violation," expressed Chief of Police Susan Manheimer, San Mateo Police Department. As USF Professor David Batstone, co-founder of anti-slavery organization and author of book, "Not For Sale" explained, "Sometimes, human trafficking looks like domestic violence, but there are different dynamics that are brought to each and every one of these cases. There should be a new creativity to how we prosecute these criminals. Some of these criminals are not being prosecuted as human trafficking but instead are charged with a lesser crime. Add to your investigative checklist, things such as age and language capacity."
Suggesting further action be taken, responses and perspectives were offered from experts in fields ranging from data integration software agencies to advocacy groups.
"As members of the advocacy community we try to amplify the voices of those in the trenches," said Beverly Upton, executive director of the San Francisco Domestic Violence Consortium. Pat Mims, director of Sexually Exploited Minor a program part of Alameda County's Interagency Children's Policy Council declared, "I believe in combat of violence against women, but I also believe it is important that they are given the dignity and finality in their healing process."
In addition to community-based resources, Chief of Police Greg Suhr, SFPD highlighted other governmental assets. "In California specifically but throughout the entire United States, we have a variety of excellent resources for the protection of victims, ranging from safe houses to countless very specific laws for their protection to victim and witness relocation and protection programs. These excellent resources are necessary. One important step in changing this is to provide resources and services to make them feel safe rather than making them feel responsible."
The common thread salient among all discussions was summarized by Oakland Police Department's Sergeant Holly Joshi's statement when she addressed the over two hundred law enforcement professionals present at the event. "You are a public servant you are to protect the people who cannot protect themselves, that's our number one job. We are all trying to save lives."
The program's goal was for attendees to gain a better understanding of the resources available to them, effective strategies to recognize the signs of domestic violence and human trafficking, and to gain a deeper appreciation of ethical leadership. Under Anthony Ribera, Director of USF's International Institute of Criminal Justice Leadership, this gathering fostered a learning space where experts in various fields were given the opportunity to understand different agencies in order to recognize the interdisciplinary of law enforcers. Gascon said, "Symposiums and other efforts like this help public departments work together successfully to make San Francisco a safer place. It's important that we make sure we're doing the best work possible and to the very best of our abilities. We always need to understand that our work has only just begun, and that we may never rest."
Know someone with a powerful USF story? Let us know! usfnews@usfca.edu | Twitter @usfcanews