Global Perspective
Chinese Investment in California Real Estate Taking Off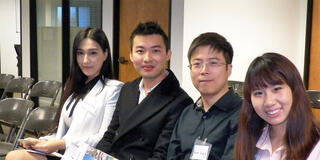 On November 21, the University of San Francisco's Chinese Business Studies Initiative hosted the "Chinese Investment in California Real Estate" forum just south of San Francisco in Burlingame, California.
To begin the event, Dean Elizabeth Davis, representing USF School of Management, and Professor Xiaohua Yang, representing USF China Business Studies Initiative, welcomed over 230 attendees from the Bay Area, Los Angeles and China.
Following that, keynote speaker Anton Qiu, principal of TRI Commercial Real Estate and vicecChair of SF Shanghai Sister City, kicked off two panel discussions with a 45 minute talk. 
Attendees were thoroughly educated on Chinese investments in California real estate thanks to Qiu and all who participated in the panel discussion.
Unilateral trade between China and the U.S. has increased from $17 million in 2000 to $12 billion in 2014, and California accounts for more than ¼ of Chinese investment in the U.S. The Chinese government encourages further investment abroad in a policy known as "Go Global," or 走出去. 
China's new Qualified Domestic Individual Investor (QDII2) policy allows residents from six Chinese cities to invest directly in foreign assets. At the same time, it does not limit how much money can be exchanged into foreign currency. Therefore, Chinese investment in U.S. real estate, especially in California, will increase dramatically. 
Professor Stanley Kwong and Consul Hongxia Wang, Chinese Consulate General of San Francisco, both urged the Chinese investors to "go local." The Chinese investors coming to the U.S. need to understand and work with the local community, obey the local laws and regulations, be sustainable and work with service professionals to avoid tax and regulatory problems in the U.S.
The first panel, moderated by Professor Roger Chen, focused on "California's perspective on Chinese Investments in Real Estate." Panelists included Supervisor Dave Pine from the County of San Mateo, Del Christensen, chief of global business development at the Bay Area Council, Anton Qiu, a principal of TRI Commercial Real Estate and the vice chair of SF Shanghai Sister City and Ethan Pang from DeLeon Realty.
A trend among the speakers occurred, recommending that Chinese investors look for high-density housing projects in the transit corridor. They believe that professionals living in the Bay Area seek convenient housing outside of San Francisco with the same kinds of amenities they can find in the city and transportation that can bring them to and from work.
The second panel, led by Professor Liang Wang, discussed "The Nuts and Bolts of U.S. Real Estate Investments." It was comprised of speakers George Chao, Coldwell Banker Commercial, Justin Hsiang, partner, MTLaw LLP, Stephen M. Moskowitz, senior partner, Moskowitz, LLP, Skip Whitney, EVP, head of China services, Kidder Matthews, and Michael Wu, CPA, partner, SingerLewak LLP.
Again, all of the speakers recommended that potential investors surround themselves with a team of experienced professionals who will help investors to define and achieve their investment goals.
The Chinese Business Studies Initiative at the University of San Francisco's School of Management aims to connect China to the global community and to bridge the gap between Chinese and Bay Area business leaders, public policy makers and academics. Their next event will be held in February 2016 and will discuss current issues important to both the Bay Area and China.
Article written by Carolyn Gerards