Diversity
Booker T. Washington and Guiding the Public Administration program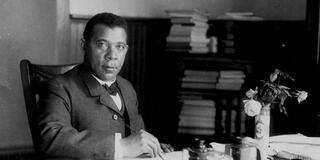 Booker T. Washington is an important influential figure in the School of Management Master of Public Administration program. Washington's life and work greatly impact the curriculum, and he ultimately serves as a significant guide for our students, over a century after his death.
USF asks its students to "change the world from here." In 19th century America, Booker T. Washington (1856–1915), gave students similar advice. "Cast down your bucket where you are," he encouraged newly emancipated and educated citizens in his classic work Up From Slavery (1901). The autobiography describes Washington's enslaved childhood on a Virginia plantation, his struggle for education and his schooling at Hampton Institute, and his ascendancy to the founding and presidency of Tuskegee Institute in Alabama. Washington never leaves the rural South. He represents himself as an ordinary African American whose success can be shared by all.
The ideas Washington sets forth were controversial in their time and remain so today. Washington emphasized black achievement in terms of vocational training and is often contrasted with his contemporary in the urban North, W.E. B. DuBois. Both men promoted education as the primary way to lift the race, but they disagreed on the type of education, DuBois insisting on African Americans' full entitlement to a liberal education, while Washington believed the best opportunities for African Americans so recently removed from slavery were to be found in an education that prepared them to offer a service to society. Both promoted racial pride but in distinctly different ways and for different ends. Yet despite the ways in which Washington is often criticized for limiting the vision of black achievement, universal strains in his text resonated with most Americans. His promotion of and demonstration in his own life of the virtues of honesty, industry, frugality, self-reliance and self-discipline, make Up From Slavery a classic American success story that has never been out of print since it was first published. In the text are many episodes where Washington displays an extraordinary talent for achievement and many passages where he distills his experience into memorable aphorisms. Here are a few:
On Leadership
Few things help an individual more than to place responsibility upon him, and to let him know that you trust him.
If you want to lift yourself up, lift up someone else.
There are two ways of exerting one's strength: one is pushing down, the other is pulling up.
Most leaders spend time trying to get others to think highly of them, when instead they should try to get their people to think more highly of themselves. It's wonderful when the people believe in their leader. It's more wonderful when the leader believes in their people! You can't hold a man down without staying down with him.
On Respect
One man cannot hold another man down in the ditch without remaining down in the ditch with him.
To hold a man down, you have to stay down with him.
I will permit no man to narrow and degrade my soul by making me hate him.
On Work
I have learned that success is to be measured not so much by the position that one has reached in life as by the obstacles which he has overcome while trying to succeed. 
Excellence is to do a common thing in an uncommon way.
Cast down your bucket where you are.
Nothing ever comes to one, that is worth having, except as a result of hard work. 
On Execution
We must reinforce argument with results.
On Friendship
Associate yourself with people of good quality, for it is better to be alone than in bad company.
On Service
My whole life has largely been one of surprises. I believe that any man's life will be filled with constant, unexpected encouragements of this kind if he makes up his mind to do his level best each day of his life—that is, tries to make each day reach as nearly as possible the high-water mark of pure, unselfish, useful living. I pity the man, black or white, who has never experienced the joy and satisfaction that come to one by reason of an effort to assist in making some one else more useful and more happy
The longer I live and the more experience I have of the world, the more I am convinced that, after all, the one thing that is most worth living for—and dying for, if need be—is the opportunity of making someone else happier and more useful. 
On Success
Success always leaves footprints.
I have begun everything with the idea that I could succeed, and I never had much patience with the multitudes of people who are always ready to explain why one cannot succeed.
In the USF Master of Public Administration program, students conclude their required course in ethics by demonstrating their understanding of theoretical concepts of ethical decision making and using them to analyze, assess, and apply Up From Slavery as an effective source for ideas about ethical leadership.
They begin by describing the event in Washington's life that each found most compelling and explain why they chose the event and what they learned from the episode as it applies to moral conduct in public administration. Using the ethical and leadership theories from our readings and observations from class activities and discussions, they then craft an essay that suggests how the lessons from Washington's life and writings could make a difference in a public administration setting as well as commenting on what lessons can be applied more generally to leadership roles in society. Then they are asked to apply their theoretical position to an actual or hypothetical case study—a moral dilemma from work life in a public agency or setting.
The responses to the assignment have been overwhelmingly positive as students appreciate the opportunity to become deeply knowledgeable about Washington. Although initially skeptical of reading a work of literature, they come to recognize the value of wisdom from the past as it applies to contemporary challenges facing the for-profit, public, non-profit, and philanthropic sectors. Washington was skilled in collaborating with each sector to promote his vision of a just society. Indeed, what was most surprising to me as the instructor was how quickly the students translated Washington's advice in to action.
Many students cited Washington's emphasis on etiquette, hygiene, and courtesy as models for how to deal with the public they serve and made actual changes in their attitude and appearance. Two students stood out for how they cited Washington as the inspiration for changes they made in how they performed their public administration roles in practical and philosophical ways.
One student, whose final paper coincided with a rare freeze in northern California, wrote, "When I read through portions of his speeches, it was so evident to me how clear Washington was with his own personal mission, and that he was there to advocate for the disadvantaged." While working on her assignment, she thought of a dilemma she faced with the homeless population she served in Sonoma County.
I thought of all of the red tape that people have to go through in order to try and do something. During this sleepless night I thought of several things, but one of the things that came to me was the reading I had done about Washington. I was so inspired by Washington's example of the ethical theory of virtue that I decided I had to do something. I couldn't sit around and wait for red tape to clear while people were suffering."
Within twenty-four hours she had organized a variety of stakeholders to create "warming shelters" for the duration of the cold, a successful effort that established a model for communities county-wide.
Another student's relationship with Washington's text was more personal. He titled his final essay "A Love Letter to Booker T. Washington," and described all the ways Washington served as a model for black men like him who were planning a career in public service. He was inspired to develop an organization for at-risk young black men in Oakland. The student concludes his essay, reflecting on a piece of Tuskegee brick I had given him. I acquired it while on a Civil Rights trip of the South, led by the revered public servant Julian Bond. While touring Tuskegee University, I noticed a building being demolished and asked the construction workers for a brick, remembering a chapter in Up From Slavery when Washington describes in exhausting detail the trial-and error process students experienced learning to make bricks to build their own school.
I gave this student a piece of that brick, a little bit of inspiration for what he intended to build. He concluded his paper with a personal manifesto motivated by Washington's enduring influence: "This work has inspired me to work on myself. Because, how can I get others to connect with their heart if I struggle to connect with my own? This is a campaign of love and understanding. Though they may walk in with heavy hearts, my team's ambition is to make sure that all parties leave knowing that they are supported and encouraged to play a part in building a healthier and safer Oakland. It is going to take a wealth of resolve to push during those hard times. It is those times that I remember Washington. In my lowest moments, I hold a piece of brick from Tuskegee. I found purpose and strength from it."
By Kimberly Rae Connor