Equipped to Lead and Succeed
8 Questions for an Executive MBA Student
Looking for "the best possible learning experience" Rebecca Fahrendorf EMBA '17 returned to USF for a graduate degree experience that would help her add value to her organization and her customers.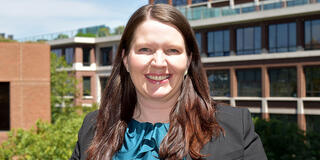 Fahrendorf shares some insights on her most valuable learning experiences at the School of Management — and explains how the collaborative nature of her cohort serves as a model for business success.
Where are you from originally? How long have you been in the Bay Area? 
I'm from Lake Oswego, Oregon. It's a suburb of Portland. I came to San Francisco to attend USF in 1999. I fell in love with the area and now consider it home. My two older sisters attended USF and stayed in the Bay Area, and my parents moved here a few years ago to join us. 
What were you doing professionally when you decided to apply for an Executive MBA program? 
I've worked on the same team since I graduated from USF; I'm a Senior Corporate Foreign Exchange Specialist at Wells Fargo Bank. We advise U.S. companies conducting business overseas on how to manage their foreign currency risk. I love my job and just celebrated my 15th anniversary. I felt an Executive MBA would help me grow and add value to my organization and customers.
How did you decide upon the USF School of Management? 
I love USF. I'm a big fan of the Jesuit tradition. USF is a warm collaborative community of learners. I like the cohort style and smaller class size. The professors are all fantastic, and the staff is extremely supportive and geared toward us having a successful and positive experience. Overall, USF fosters the best possible learning environment. The practical aspects of convenient location, once a month classes, and relatively lower cost were compelling factors as well.  
How have your classmates influenced your EMBA experience? 
I couldn't ask for a better cohort. Everyone is there because they want to learn. They are all smart and ambitious and bring unique experience that adds to everyone's learning. While we all aspire to high standards, we balance our competitiveness with being very collaborative and supportive of each other. We have become great friends and have a lot of fun together. I couldn't do it without them! When the going gets tough and stressful, we are all in it together. Our class motto is "collaborate to graduate."
Can you tell us about a specific project or class that you've found especially valuable? 


All of the classes and professors have been fantastic. I learned the most in the two accounting courses - I was an economics major and never had accounting. The statistical analysis class was really eye opening into the world of big data. The soft skills classes of Leadership and Teams and Innovation were amazing, and I learned so much. I was more on the quantitative side of things in undergrad and didn't realize how much formal learning there was to be had in these topics, and I've learned valuable skills that have helped me at work.

 

What do you think prospective EMBA students should consider when deciding on a school? 
First they need to consider the quality of the education. I think this comes through the professors and staff, and also the layout of the program. I personally think one can learn better in the cohort style with smaller class sizes. The personalities of the classmates matter too. My program is full of warm, collaborative professionals with a wealth of experience, who support each other in achieving success. They should also think about the networking opportunities the school brings. USF is very well connected in San Francisco and Silicon Valley and will help connect students to many opportunities. The practical aspects are the schedule (once a month is a must - I wouldn't be able to do it otherwise) and the convenient financial district location.
Have you been able to apply your classroom learning on the job already? If so, can you give an example?
It's definitely added value already in my ability to see the big picture and better understand things from my customers', managers', and coworkers' points of view. I think it's also made me a more effective leader and communicator. I feel like I'm able to more efficiently achieve desired results.

 

How do manage your work-life balance, now that you've added a master's 

program to your calendar? 
I'll be honest - it isn't easy. You have to readjust your calendar and priorities. I am very active and social and have had to cut back and learn to say "no" to some things, but it will be worth it. I still find time for the things most important to me, like riding my horse in jumping competitions and spending time with my friends, family and our two dogs. I'm lucky to have a very strong support group between my family, friends and coworkers.
Could a USF Executive MBA be the key to your career advancement? Complete our pre-assessment to find out if you're eligible for the School of Management's Executive MBA program for working professionals.