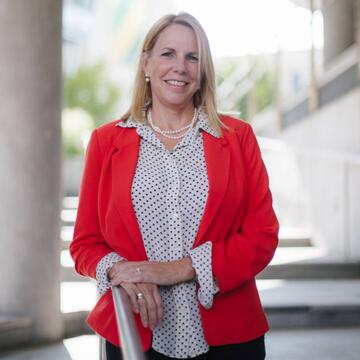 Michelle Millar
Professor and Associate Dean for Undergraduate Programs
Associate Dean
Full-Time Faculty
Biography
Michelle Millar researches sustainability and corporate social responsibility in the lodging, meeting, and event management industries. She studies the choices travelers make when choosing sustainable travel products and what factors are most important to them when it comes to sustainable hospitality products and services.
She developed a framework used by hospitality educators and industry professionals to identify the sustainable skills most needed by students when entering the industry.
Students in her courses learn how to integrate socially and environmentally conscientious practices into their businesses and surrounding communities and address the important implications for industry marketing.
Expertise
Sustainability in the hospitality and tourism industries
Research Areas
Sustainability
Corporate Social Responsibility
Appointments
Associate Dean, Undergraduate Programs, 2021-Present
Administration Co-Chair, SOM Strategic Planning Committee, 2021-Present
Co-director, Center for Research, Artistic and Scholarly Excellence (CRASE), 2020-2021
Department Chair, Hospitality Management, 2017-2020
Co-chair, Undergraduate Program Committee, School of Management, 2017-2020
Member, Faculty Governance Council, School of Management, 2017-2021
Education
PhD, Hospitality Administration, University of Nevada Las Vegas, 2009
Masters, Tourism and Hospitality, Administration, Temple University, 2003
BA, International Relations, UC Davis, 1988
Awards & Distinctions
University of San Francisco, School of Management, Outstanding Service Award, 2016

W. Bradford Wiley Memorial Best Research Paper of the Year Award, 2012

Best Dissertation Award, University of Nevada, 2009
Selected Publications
The following list is a selection of recent publications and does not represent the entire body of research.
Collins, M., & Millar, M. (2019). Tourists' perceptions of destination image, safety, and aggressive street behavior. International Journal of Hospitality and Tourism Administration. 
Millar, M. (2019). Sustainable Meetings and Events. In Fenich, G. (Ed.), Meetings, Expositions, Events, and Conventions: An Introduction to the Industry (pp. 225-244). Boston, MA: Pearson.
Millar, M., & Park, S. Y. (2018). Industry Professionals' Perceptions of Sustainability in Meeting and Event Education. Journal of Teaching in Travel and Tourism, 18(2), 123-137.
Millar, M., Collins, M., & Jones, D. (2017). Exploring the relationship between destination image, aggressive street behavior, and tourist safety. Journal of Hospitality Marketing and Management, 26(7), 735-751.
Collins, M., Millar, M., & Jones, D. (2017). Hotel Council of San Francisco and corporate social responsibility. Journal of Hospitality and Tourism Cases, 5(3), 44-50.