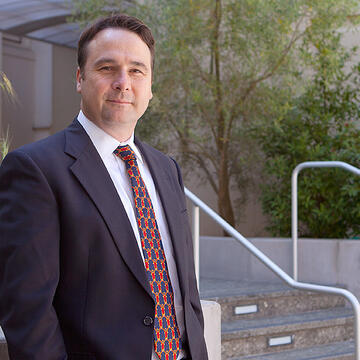 Ludwig Chincarini
Professor
Malloy Hall 227 & SFH Downtown Campus, Room 210
Biography
Ludwig B. Chincarini, CFA, PhD, is Professor of Finance in the School of Management at the University of San Francisco as well as an advisor to United States Commodity Fund Investments with over fifteen years of experience in the financial industry specializing in portfolio management, quantitative equity management, and derivatives. He also works with an angel group to help start-up companies. Prior to that he was a member of the academic council of Index IQ which was bought by NY Life in 2015, where he was instrumental in creating and developing some of the newest alternative ETFs, like QAI (the first hedge fund replicator), CPI (the first real return-inflation hedged vehicle), and MNA (the first risk-arbitrage ETF), as well as others. He was on academic council of Future Advisor, one of the early Robo-Advisor firms, which was bought by Blackrock in 2015.  He wrote one of the first robo-adviser business plans in 2003 and a plan for Robo Advisor 2.0 in 2018.
He was Director of Research at Rydex Global Advisors (now Invesco), where he co-developed the S&P 500 equal-weight index, designed the successful ETF, RSP and helped launch the Rydex ETF program.
He helped build an internet brokerage firm, FOLIO Investing (bought by Goldman Sachs in 2020), designing its innovative basket trading and portfolio management platform.  He also worked at the Bank for International Settlements (BIS) and Schroders.
He is the author of one of the classic books in the field of portfolio management entitled Quantitative Equity Portfolio Management and the book which introduced formally the idea of crowding as an alternative view of causes of the financial crisis with the appropriate title The Crisis of Crowding.
Research Areas
Crowding
Investing
Economics
Financial economics
Education
PhD in Economics, Massachusetts Institute of Technology, 1995
BA in Economics (Summa Cum Laude), University of California at Berkeley, 1991
Prior Experience
Academic Council, IndexIQ, 2006 - 2015
Advisor to FutureAdvisor 2013 - 2015
Editorial Advisory Board, Journal of Investment Consulting, 2013 - present
Director of Research, Rydex Global Advisors (Guggenheim Investments), 2002 - 2003
Assistant Professor of Economics, Pomona College, 2007 - 2012
Adjunct Professor, Georgetown University McDonough School of Business, 2003 - 2007
Director of Research and Senior Management, Folio Investing 1999 - 2002
Awards & Distinctions
Chincarini, Ludwig B., Lazo-Paz, Renato, and Fabio Moneta. "Crowded Spaces and Anomalies," Working Paper. Finalist for The Cromwell Prize 2022.
Outstanding Research Award, University of San Francisco School of Business and Management, 2021
Peter W. Gonzales Jr. Award for Adjunct Faculty Teaching Excellence, McDonough School of Business, Georgetown University, 2006
Departmental Citation and Earl Rolph Prize, UC Berkeley, 1991
Selected Publications
Chincarini, Ludwig B. and Daehwan Kim. Quantitative Equity Portfolio Management. An Active Approach to Portfolio Construction and Maintenance. 2nd Edition, McGraw-Hill, 2022.

Chincarini, Ludwig (w/ Fabio Moneta). "The Challenges of Oil Investing: Contango and the Financialization of Commodities" Energy Economics, Forthcoming.

Chincarini, Ludwig B., Kim, Daehwan, and Fabio Moneta. "Beta and Firm Age." Journal of Empirical Finance, Forthcoming.  

Chincarini, Ludwig (w/ Andrei Bolshakov). "Manager Skill and Portfolio Size with Respect to a Benchmark." European Financial Management, February 2020.

Chincarini, Ludwig (w/ Sal Bruno and Frank Ohara). "Portfolio Construction and Crowding." Journal of Empirical Finance, March 2018.

Chincarini, Ludwig B. "Transaction Costs and Crowding." Quantitative Finance, August 2017.