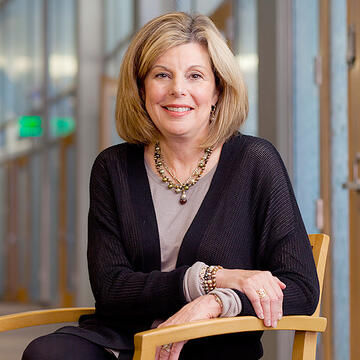 Leslie Goldgehn
Professor Emeritus
Biography
Professor Leslie A. Goldgehn is garnering international recognition for her expertise in marketing strategy and leadership development. Her teaching and research agendas have been extremely rigorous over the last three years, culminating in three publications in top education, case writing, and marketing journals. Dr. Goldgehn's most recent casework centers on marketing to promote social justice, with investigations into marketing in the nonprofit sector and how to better engage students in their communities. In addition, she has been gathering data on case development and use in the classroom, as well as exploring the integral role of marketing in higher education. She is an award winning case writer, with her most recent case, "iPhone Applications: Viable Business or Time Consuming Hobby?" winning the top award at the Western Case Writers Conference and being published in the prestigious Case Research Journal.
Professor Goldgehn has been a visiting professor at universities around the globe, including, University of Economics, Prague (VSE), Tsinghua University in China, UC Berkeley, and UC Davis. Her conference presentations have taken her to the U.K., Portugal, Bermuda, Israel, China and all across the U.S.A. Her recent study, "Designing iPhone Applications: an Executive Class Simulation," was presented at the International Journal of Arts and Sciences Conference in Aix-en-Provence, France, in 2011. In September, 2013 she presented a paper titled, "Marketing in Action: Preparing Students for their Careers through a Consulting Project" at the Marketing Management Association Conference in New Orleans.
As the recipient of the prestigious Fulbright Scholarship in 1995, Professor Goldgehn focused her work on the Czech Republic, two years after the nation's separation from Slovakia and six years after the collapse of the Berlin Wall. The Czechs were eager to convert to a market-driven economy from the centralized, Soviet-dominated economy that had controlled their country since the end of the Second World War. Professor Goldgehn was requested by, and placed at, the University of Economics (VSE) in Prague, Czech Republic, where she taught marketing and mentored graduate students, while serving on committees and advising the school's President on how best to market the institution itself. Concurrently, she donated her expertise as a consultant to a number of community businesses and nonprofit organizations.
Education
Post Graduate Certificate, Customer Focused Innovation, Stanford University. October, 2013
Post Graduate Certificate, Leadership Dynamics, Harvard University, 1999
Ph.D., Concentration in Marketing, Northwestern University, Evanston, IL, University Fellow, 1982
M.A., Administration and Policy Analysis, Loyola University, Chicago, IL, 1976
B.A., Anthropology and Psychology, University of Illinois, Champaign, IL (with Honors), 1974
Awards & Distinctions
Leadership Foundation Fellowship, International Women's Forum, in conjunction with the John F. Kennedy School of Government at Harvard University and the Department of Labor, 1998 - 1999

Fulbright Fellowship, Czech Republic, 1995

Outstanding Professor Award, USF School of Management, 2005

Founder, College Matters (An educational and college admissions counseling practice), 1998 - present

Past President, Western Association of Case Matters

Board Member, Western Association of Case Writers

Editorial Board member, Journal of Case Research and Inquiry

Board Member, Jesuit Foundation
Selected Publications
"iPhone Applications: Viable Business or Time-Consuming Hobby?" Case Research Journal, Vol. 3, Issue 1, Winter 2011

"What do MBA, MLB and AT&T Have in Common? A Dynamic Off-Campus Application," Journal of Business Cases and Applications, Vol. 3, July 2011 

"Beyond the Total Organization: A Graduate Level Simulation," Journal of Management Education, 2010 (with Kathleen Kane)